Baldah Garden a botanical garden located at Wari in the old part of the city of Dhaka. It is one of the oldest botanical gardens established in this part of Bengal by a private individual. The naturalist, philanthropist and poet Narendra Narayan Roy Chaudhury, landlord of the Estate of Baldah, established the garden on his own property in 1909. It is divided into two units. The larger unit is named Cybele after the Greek nature goddess of fertility. It is roughly rectangular, with the northern side slightly cutting a corner, and measures about 136 metres in length and 76 metres in width. The smaller unit, Psyche meaning 'soul', is approximately 100 metres long and 45 metre wide. Chaudhury passionately enriched the garden with rare plant species collected from different parts of the world until his death in 1943, when further expansion of the garden came to a halt. This situation continued until 1962, when the garden was handed over to the government of East Pakistan and the Forestry Department took charge of managing the garden. After the creation of Bangladesh in 1971, the Department of Forestry of the new government began to work with renewed vigour for its improvement, with the result that most of its past glory has now been restored with the addition of two new greenhouses and modernisation of civil amenities inside the garden. The Baldah Garden is now managed as a satellite unit of the National Botanical Garden by the Department of Forestry.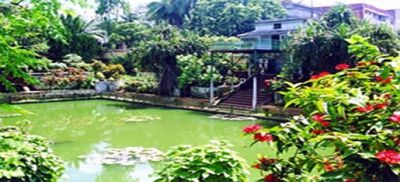 The collection of the garden is classified into seven categories - orchids, cacti, conservatory plants, aquatic plants, roses, rockery and wall plants, arboretum, and miscellaneous flora. The garden has about 15,000 plants representing 672 species.
Many of these are exotic and rare plants; perhaps the richest collection of exotic plants in the country is housed in the Baldah Garden. The flora of the garden represents collections from over 50 different countries. The garden has among its attractions the 'century plant' which is believed to flower only once in a hundred years, and was seen in bloom a few years back. The Adansonia digitata tree which adorns the garden is historical. Central African aborigines used to seal their deads in holes dug into the cavity of the tree in order to mummify the body long before the days of the Pharaohs.
There is a big sundial in the Cybele unit of the garden which shows the time of the day with precision on sunny days and is still a surprise attraction to the visitors, particularly children. To enjoy the floristic beauty of the garden a rest house-cum amphitheatre, called the Joy House, was built in the garden. It has been visited by many celebrities, including the poet Tagore whose poem 'Camelia', a plant introduced from Japan, was actually written while he was staying in the Joy House. The Psyche unit of the garden houses several varieties of the aquatic plant Nymphea pubescens, the national flower of Bangladesh which is called 'shapla' in Bangla, maintained in a section of the garden known as the 'Shapla House'. The rose garden in Cybele is famous throughout the subcontinent for its rich collection of roses. One of the two greenhouses has rich collections of orchids, aroids and conservatory plants. The Baldah Garden, although relatively small in size, is an exciting place for naturalists and tourists to visit. [Zia Uddin Ahmed]