Bandar Thana (Chittagong Metropolitan)
Bandar Thana (Chittagong Metropolitan) with an area of 20.04 sq. km is located in between 22°16' and 22°20' north latitudes and in between 91°45' and 91°49' east longitudes. It is bounded by halishahar and double mooring thanas on the north, patenga thana on the south, karnafuli thana and Karnafuli river on the east and bay of bengal on the west.
Population 213598; male 115085, female 98513, Muslim 191708, Hindu 18468, Buddhist 233, Christian 3057 and others 132.
Main river karnafuli .
Thana
Ward and Union
Mahalla and Mouza
Population
Density (per sq km)
Literacy rate (%)
Urban
Rural
Urban
Rural
4
11
213598
-
10659
72.6
-
Ward and Union
Ward No.
Area (sq km)
Population
Literacy rate (%)
Male
Female
Ward No. 36
2.29
23253
14251
68.80
Ward No. 37
4.10
18223
15622
71.10
Ward No. 38
6.14
26698
23770
68.50
Ward No. 39
7.51
46911
44870
76.90
Source Bangladesh Population Census 2001, Bangladesh Bureau of Statistics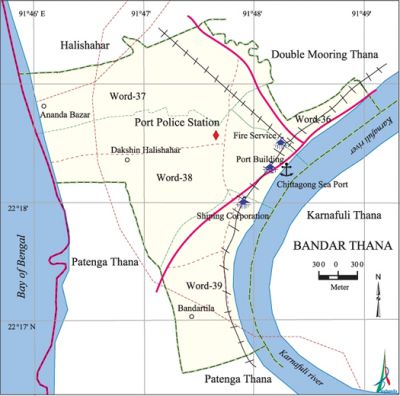 Historical of the War of Liberation In 1971, the freedom fighters (naval commandos) of the Bandar thana conducted a number of successful operations against the Pak army and damaged a number of enemy ships by mine explosion. The Pakistan army, on the verge of their defeat, planted mines in order to destroy the port. After 16 December 1971, the USSR Naval Forces sent experts who conducted nine-sweeping operation for about three months. Several Soviet mariners were killed in this mine sweeping operation.
Noted religious institutions Bandar Tila Ali Shah Mosque, S Alam Mosque, Nischintapara Jami Mosque, Hafez Syed Moniruddin Shah Mazar, Haddishah Mazar, Umar Shah Mazar, Sree Sree Kali Bari Cremation Temple, Anandabazar Kali Temple, East Colony Buddhist Temple.
Literacy rate and educational institutions Average literacy 72.60%; male 75.30% and female 69.30%. Noted educational institutions: Mahabbat Ali City Corporation College, Barrister Sultan Ahmed Degree College, Navy School and College, Gosaildanga Barik Miah School, Begumjan School, Meher Afzal School, South Halishahar High School and GRK High School.
Noted establishments Shipping Corporation Bhaban, Bandar Bhaban, Chittagong EPZ, Chittagong Custom House, Navy Hospital Residential Area, Fire Service Station, Port Trust Officers' Colony, Port Colony, Seamen's Hotel.
Main sources of income Agriculture 2.17%, non-agricultural labour 1.11%, industry 2.57%, commerce 12.60%, transport and communication 5.53%, construction 1.70%, religious service 0.26%, employment 58.86%, rent and remittance 2.88% and others 12.32%.
Ownership of agricultural land Land owner 33.34%, landless 66.66%.
Hats, bazars and shopping complex Fakir Hat, Yasin Mistry Hat, Steel Mill Bazar, Bandar Bazar, Kaja Chowdhury Bazar, Saber Plaza, Bay Shopping Centre, City Corporation Market, Shah Plaza and Jalal Plaza.
Access to electricity All the mahallas of the thana are under electrification net-work; however 94.44% of the dwelling households have access to electricity.
Sources of drinking water Tube-well 79.54%, pond 0.21%, tap 19.80% and others 0.45%.
Sanitation 85.06% of the dwelling households use sanitary latrines and 13.70% use non-sanitary latrines; 1.24% of' the dwelling houses do not have latrine facilities.
NGO activities brac, asa, Mamata, etc. [Md. Abdul Baten]
References Bangladesh Population Census 2001, Bangladesh Bureau of Statistics; Field report of Bandar Thana.