Bandyopadhyay, Bibhutibhushan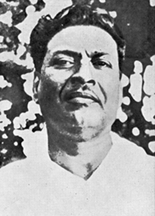 Bandyopadhyay, Bibhutibhushan (1894-1950) novelist, was born on 12 September 1894 at his maternal uncle's house at Ghoshpada-Muraripur village, near Kanchrapara in the 24-Parganas, west bengal. His father Mahananda Bandyopadhyay, a resident of Barackpur village in the same district, was a sanskrit scholar and had been awarded the title of 'Shastri' for his erudition and proficiency in reciting and interpreting legends and myths.
Bibhutibhushan's education started at the village school. He had always been a talented student and secured first division in both the Entrance and the Intermediate of Arts examinations. He passed the BA examination also with distinction. Though he was admitted to the MA and Law classes, he did not continue his studies and started teaching at a school in Hughli. For a short period of time, he toured different areas of Bengal, assam, Tripura and Arakan as a roving publicist for Goraksini Sabha.
Bibhutibhushan then became secretary of Khelatchandra Ghosh and the assistant manager of his Bhagalpur estate. He also worked as house tutor for Khelatchandra's family and taught for some time at the Khelatchandra Memorial School. He then joined the Gopalnagar School where he continued to work until his death. The literary career of Bibhutibhushan started through the publication of his short story, 'Upeksita' in the prabasi of 1328 BS (1921). In 1925, while serving at Bhagalpur, he started writing pather panchali, finishing it in 1928. His other important writings include Aparajita (1931), Meghamallar (1931), Mauriphul (1932), Yatrabadal (1934), Chander Pahad (1937), Kinnardal (1938), Aranyak (1939), Adarsha Hindu Hotel (1940), Maraner Dankabaje (1940), Smrtir Rekha (1941), Devayan (1944), Hiramanik Jvale (1946), Utkarna (1946), He Aranya Katha Kao (1948), Ichhamati (1950), Ashani Sangket (1959).
Pather Panchali, Bibhutibhushan's first novel, is considered to be his masterpiece. Aparajita is a sequel to Pather Panchali. Both these novels draw considerably upon his personal life. Pather Panchali has been translated into several Indian and European languages and was made into a highly acclaimed film by satyajit ray, who also made two films based on Aparajita and Asani Samket.
Bibhutibhushan's popularity as a novelist is second only to that of Sharat Chandra Chattopadhyay. This solitude-loving novelist portrayed the face of rural Bengal where nature and human life exist in close harmony. Creepers, grass, insects and spiders, all have a place in his descriptions of nature. His novels show his deep understanding of life and nature. He also did a considerable amount of editorial work. He was editor of Chitralekha, a cinema magazine. He also edited Dipak, along with Hemanta Kumar Gupta. Bibhutibhushan was posthumously awarded the Rabindra Prize (1951) for his novel Ichhamati. He died at Ghatshila in Barackpur on 1 November 1950. [Saumitra Sekhar]