Bangabandhu International Conference Centre
Bangabandhu International Conference Centre one of the world's biggest and most modern convention centres. Situated at Sher-e-Banglanagar in Dhaka, the centre was constructed with the technical and financial support of China and was intended to serve immediately as the venue for the 13th summit of the 114-member Non-Aligned Movement (NAM).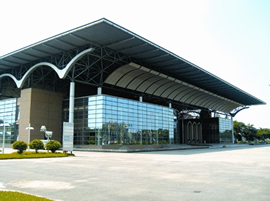 It was originally named as Bangabandhu International Conference Centre. But during its formal handing over on 12 January 2002 it was renamed as Bangladesh-China Friendship Conference Centre. The centre has resumed its original name as Bangabandhu International Conference Centre in 2009.
Spread over 50,000 square metres of a lushgreen field, it was built with a Chinese grant of 240 million RMB or $50 million. Nearly four hundred Chinese engineers and technicians worked for about 17 months to complete it. Its main hall has a seating capacity for 1700 persons, 700 delegates on the floor and 1000 observers in the galleries. It has two 200-seat rooms for committee meetings, four negotiation rooms, a 700-seat banquet hall and a 300-seat media briefing room. The main structure is built on about 20,000 square metres of land and has around it 30,000 square metres of space with water fountains, a parking lot for 700 vehicles and 128 flag poles. The centre, designed by the Beijing Institute of Architectural Designs and Research, combines in it the latest architectural technology.
The top of the main hall is a 48-metre spherical shell structure supported by 24 concrete columns. It reminds one of the umbrella-shaped top of the Parliament Building (Jatiya Sangsad Bhaban), located not too far from it. The security system around and inside the building and the public address system are controlled electronically. This centrally air-conditioned building is equipped with a simultaneous four-language translation system, facilities for direct broadcast/telecast of programmes and devices to receive messages and programmes via satellite.
This massive complex is now the country's most popular centre for university convocations, national and international conferences, export exhibitions and large seminars. [Enamul Haq]