Bangladesh Computer Council
Bangladesh Computer Council (BCC) is a statutory and autonomous body under the ICT Division, Ministry of Science and Information and Communication Technology, Government of Bangladesh for encouraging and providing support for ICT related activities in Bangladesh. It was established by Act No IX of 1990, approved by the Parliament. BCC is responsible for formulating policies to ensure effective and systematic growth of the computer and information technology segment of the country. Prior to formation of BCC, there was a National Computer Committee (NCC) created in 1983 to formulate necessary policies and to implement programmes for expansion and effective utilisation of computers and IT. In 1988, the government dissolved NCC and formed a National Computer Board (NCB), which was later reorganised into Bangladesh Computer Council by the Bangladesh Computer Council Ordinance in 1990.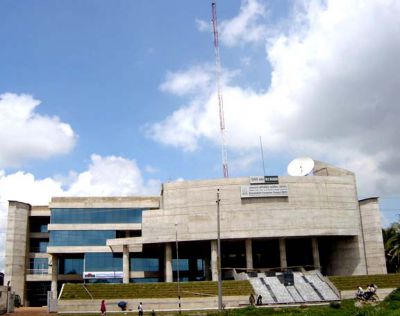 Organisational Structure The Directorate Association of BCC is known as Council which is formed in comprise with Chairman, Vice-Chairman, member-secretary and 8-10 general members. About an 11-member council performs as the country's highest policymaking body on computer and IT matters. The government nominates the executive chairman and the vice-chairman of BCC. It's funded by grants from the government and other organisations. At present, 106 executives are working in BCC at its headquarters in dhaka. It has 3 computer labs equipped with a supercomputer and other modern gadgets. Besides this BCC have seven computer-training centres in Rajshahi, Khulna, Chittagong, Barisal, Syhlet and Faridpur.
Aims and Objectives The main objective of establishing BCC is to ensure the effective application and expansion of the use of information technology. Moreover the objectives of BCC were to promote the utilisation and application of computer and IT for achieving rapid socio-economic development, to develop an infrastructure for IT applications including computer education and planning, to fix up the IT requirements of government, and to finalise the specification and standard of computers. BCC provides support in building well-equipped computer training centres, labs and libraries and provides advice to the government and other organisations on application of computer and IT based activities. The activities of BCC are following:
Training and Human Resources Development BCC offers eleven special certificate courses including Fundamental Courses based on office packages; Computer hardware, maintenance and troubleshooting; Electronic Governance; Database Management Systems; Computer Networking; Programming; Multimedia; Web Site Design and Web Application Development; Statistical Analysis using SPSS; CAD/CAM and Computer Aided Drawing Training and Diploma and Post Graduate Diploma of 1-year duration. From 1990-91 to 2007-08, about 15077 trainees have received training from BCC. Out of that amount, males and females are 11942 and 3135 respectively. In 2005, BCC commences 'National ICT Internship' program for professional skill development. Besides this BCC established jointly 'Bangladesh-Korea Institute of Information and Communication Technology' with the assistance from Bangladesh and Korean government in 2007.
Infrastructure Development BCC conducts various projects for the infrastructural development in the division of communication and IT. The completed projects are- 'Development of Infrastructure for IT Application (1998-2008)'; 'Basic Infrastructure for Hi-Tech Park (Phase 1) Project in Kaliakoir, Gazipur (2006-2008)'; 'Support for Development of Public Sector use of ICT under the Economic Management Technical Assistance Program (EMTAP) Project (2006-2009) and 'Implementation the Computer Training Programmes on 128 Academic Institutions in 64 Districts Project (2007-2010)'. Under this project, during the 2009-10 financial year, the BCC has established 128 computer labs throughout country. About 1088 school teachers are also trained. BCC offered 500 computers and requisite accessories to different educational institutions, science club and libraries. The New Proposed Projects are- Establishment an IT Village in Khulna; National infra Net-work project for Bangladesh (Bangla GovNet) and the extension of BCC Building (in 2nd phase).
Capacity Building BCC as the organisation of the government entrusted with the responsibility to deal with matters related to computerisation, renders advisory services to different government departments, organisations and autonomous bodies. During the period of 1990-91 to 2007-08, BCC extended support and advisory services to about 661 organisations including ministries, government departments and projects, autonomous organisations, educational institutes, Bank and other institutions. Official and staffs of government organisations and autonomous bodies and private participants are imparted training here. In 2005, the BCC produced Unicode Compliant (version 4.1), Driver of lay-out Bangla Key Board, Font, Converter and so on. BCC built an ICT Incubator for encouraging the IT-based local companies in Dhaka in 2009. Almost 1700 employees work here. At present, BCC is going to extend their hosting facilities for promoting e-governance system. [Mahbubul Alam]