Bangladesh Scouts national scouting organisation of Bangladesh, started its journey in this country as the 'East Bengal Scout Association', was founded in Dhaka under the leadership of the elderly scouter Salimullah Fahmi on 22 May of 1948. After the liberation, from all over the country met in Dhaka on 8-9 April 1972 scout leaders decided to form an organisation called 'Bangladesh Scouts Samity'. On 9 September 1972, the Samity got the Government's recognition. Scouting had continued in this region till 1971 by the efforts of AFM Abdul Haque Faridi, HGM Biver, VA Abbasi, VC Prince, Aziz-ul Haque, Commandant Abdur Rashid, M Abdul Bari, M Wazid Ali and host of others. The World Organisation of the Scout Movement (WOSM) recognised Bangladesh Scout Samity as its 105th member- State on 1 June 1974. However, the name of the Samity was changed to 'Bangladesh Scouts' in the 5th National Scout Council held on 18 June 1978. Meanwhile, the Council opened the girl-in-scouting in its 2st meeting on 24 March 1994 to give the opportunity to the girls with the permission from the WOSM.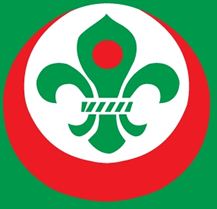 Initially Bangladesh Scouts had only 56,325 members. In 1978 it launched a special program to enhance membership from 83,000 to 5, 00,000. The target was achieved by the 1995. Thereafter Bangladesh Scouts adopted the 'Strategic Plan-2013' to generate 1,500,000 scouts by 2013. In 2010 number of scouts in Bangladesh reached to 1,000,000 that elevated Bangladesh Scouts to 5th position in the WOSM. The highest policy making body of Bangladesh Scouts is the National Scout Council, headed by the President of the Peoples' Republic of Bangladesh. However, the Chief National Commissioner, the chief executive and other members of the Executive Committee are elected in every third-year Council meeting.
There are 15 National Commissioners, 30 Deputy National Commissioners and 50 professionally trained full-time field commissioners to look after the overall development and expansion of scouting all over the country. The headquarters, Scout Bhavan is situated in Dhaka. Bangladesh Scouts has 12 Regions. These are: 6 regions in divisional level, 2 board-based regions (Comilla and Dinajpur) and 4 special regions as Rover, Railway, Air and Naval region (situated in Dhaka). The budget of Bangladesh scouts is provided from three sources: 54% from rental income from 15-storied Scout Bhavan (since 1982) and revenue from the National Training Centre at Mouchak, 37% government donation, and 9% from other sources.
Scout movement in Bangladesh has three identical branches: the 6-10+ year children are called Cub Scouts, girls and boys of schools and madrasas of 11-16+ years are called Scouts, and youths 17-25 years involved in scouting from in different colleges and universities are Rover Scouts. However, the age limit is extended to 30 years for service holders in the Railway, Naval and Air regions. Moreover, there are also open scout teams in Dhaka and elsewhere. Interested adults are working as unit leaders or officers after taking trainings. Teachers and faculties of different levels of the country are also working with the scouts.
The aim of the scouting is to develop the children, adolescents and young people as good citizens of the country through physical, mental, ethical, intellectual developments. Some distinct features are noticeable in scouting: learning by doing, working in patrol system, recognition of achievement by badge system, working in open air, saluting in three fingers and handshake by right hand, wearing scout uniform, scurf and badges and abiding by scout law and promise. After enrollment in the movement the scouts are to undergo different trainings and through vigil and investiture as instructed by the founder of the movement, Baden Powell (syllabus and programs given in his books, Scouting for Boys, Rovering to Success, Wolf Cub Hand Book etc) become the proud members of the movement. The main theme or motto of scouting for the three branches is: Cub: trying the best; Scout: be prepared and Rover Scout: service. Scout activities include: weekly meeting, camping and hiking, Community Development Camp (COMDECA) and larger gatherings: Camporee (for cubs), Jamboree (for scouts), and Moot (for rovers) which are organised in upazila, district and national level by Bangladesh Scouts, as well as by the WOSM in international level.
Moreover, different community development programs like tree plantation, sanitation, environment conservation, popularising fuel saving stove or cooker, relief work and other services during natural disasters by scouts are always appreciated by the peoples of Bangladesh.
Scouts are awarded for their activities and achievements by different badges. The highest awards for the three branches of scouting are: Shapla Scout Award, President's Scout Award and President's Rover Scout Award. Adult leaders are also awarded for their contribution in scouting. The highest award in Bangladesh scouting is Rouppa Baghro (Silver Tiger) and second one is Rouppa Elish (Silver Hilsha). The WOSM also awards the distinguished Bronze Wolf Award (rarely achieved) to the adult leaders for their outstanding performances. The WOSM by an anonymous decision first awarded Bronze Wolf Award to the founder of scouting Sir Lord Baden Powell on 2 August 1935 in Stockholm.
Bangladesh Scouts have almost 30 publications including P.R.O, Cub Scout hand book, training manual, program books, scout record, patrol leaders' hand book, program bulletin. Moreover, Rover Region also published the Bangla translation of Rovering to Success written by Baden Powell. Bangladesh Scouts has a regular monthly Agradoot, which stepped in its 54th years of publication. Bangladesh Television is also regularly broadcasting a live program called, Agradoot performed by the scouts on the 1 and 3 Monday of every month at 2.15 pm. Bangladesh Scouts is working to develop scouts as self-respectful, honest, dynamic and energetic; service oriented and as a whole good citizens of the country. [Md. Ramjul Huq]