Bangladesh Shilpakala Academy
Bangladesh Shilpakala Academy The principal official cultural centre of Bangladesh, successor to the former Pakistan Arts Council, was set up at Segunbagicha, dhaka in 1974 by an Act of Parliament. It is a national institution and is administered by the Ministry of Cultural Affairs.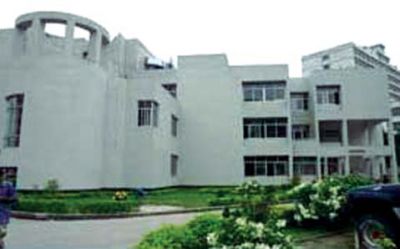 The principal objectives of this institution are presenting the culture of Bangladesh and fostering the arts including fine arts, music, dance and drama. The activities of the academy include patronising and helping artists, sanctioning grants to government-approved cultural institutions and organisations, conducting research on traditional heritage and culture, arranging art exhibitions and organising festivals of music and drama at national and international levels. It also holds cultural functions, arranges conferences, seminars, symposiums, workshops, debates, etc.
Under its initiative, arts and cultural troupes of Bangladesh are sent abroad and foreign cultural delegates are invited to Bangladesh. The academy also honours cultural personalities of the country for their contributions. It publishes books, periodicals, souvenirs, etc on different aspects of art and culture.
The academy has five administrative divisions: (1) Research and Publication Division, (2) Finance, Accounts and Planning Division, (3) Fine Arts Division, (4) Drama Division (5) Music and Dance Division. These divisions are run by five directors. The Director General, who is appointed by the government, is the chief executive of the academy.
The Shilpakala Academy houses a modern stage where dramatic and cultural performances are held. There is also an art gallery where art exhibitions are held. Since 1990 the Bangladesh Shilpakala Academy has been publishing an annual English journal, Shilpakala.
Branches of the Bangladesh Shilpakala Academy have been set up in almost all districts. Branches are also being set up at upazila levels. [Sambaru Chandra Mohanta]