Basu, Kshudiram (1889-1908) a revolutionary and martyr. Born at Habibpur village of Midnapur district, Kshudiram Basu was brought up by his eldest sister as he lost his mother, Lakshmipriya Devi, at the age of six and his father Trailokyanath Basu a year later. Having his primary education at the village school he joined Hamilton School at Tamluk and later Midnapur Collegiate School in 1903, where he read upto class VIII. He, however, showed his devotion more to the patriotic cause of the freedom of the country than to class works.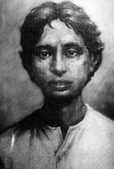 The great agitation against the partition of bengal, 1947 and its offshoot, the swadeshi movement affected even small school children like Kshudiram (Ksudiram) and he left school to join a secret society under Satyen Basu. There, along with a few others, he was given physical, moral and political education and also trained how to shoot by revolver. Kshudiram found, as a part of anti-partition agitation, adventure in burning clothes of British manufacture and sinking boats carrying salt imported from Britain.
A policeman caught Kshudiram in an agricultural-cum-industrial exhibition at Midnapur in 1906, while the latter was distributing a seditious leaflet. Kshudiram, however, managed to escape but was re-arrested in April 1906, prosecuted and let off considering his tender age. He took part in the looting of mailbags at Hatgachha in 1907 and participated in the bomb attack on the Bengal Governor's special train near Narayangarh railway station on 6 December 1907. He joined the demonstration against the moderate politics of surendranath banerjea in a political conference at Midnapur.
In 1908, the jugantar party deputed prafulla chaki and Kshudiram Basu to kill Kingsford, the Chief Presidency Magistrate of Calcutta. Kingsford became a particular target for the revolutionaries because of his very inhuman, unjustified and vindictive judgments against the Swadeshi and anti-Partition activists.'
On 30 April they lay ambushed under the shade of a tree, before the European Club gate, mistook an identical looking carriage for Kingsford's and hurled a bomb at it and killed a European lady and her daughter. Kshudiram could not escape and got arrested at the Waini railway station next morning. Kshudiram took upon himself the entire responsibility for having thrown the bomb, but refused to disclose the identity of his associates or any other secret. He was sentenced to death in the Muzaffarpur Jail on 11 August 1908. [Sailesh Kumar Bandyopadhyay]