Basu, Mankumari (1863-1943) poet and short story writer, was born on 23 January 1863 at her maternal uncle's home in the village of Sridharpur in jessore district. Her father was Anandamohan Dutta, and michael madhusudan dutt was her uncle. Her paternal residence was at Sagardari in Jessore. In 1873, at the age of ten, she was married to Bidhushankar Basu. She was widowed in 1882 with her only one female child.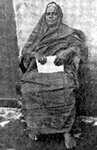 Mankumari's first poem, 'Purandarer Prati Indubela', written in blank verse and published in the sangbad prabhakar, shows, in theme and style, the explicit influence of Madhusudan. Her books of poems include Kusumanjali (1893), Kanakanjali (1896), and Birkumarbadh (1904). The basic themes of her poems include nature, society, history and nationalism. Priyaprasanga or Harano Pranay (1884), written in both prose and verse, is a remarkable piece of writing expressing her grief at the premature death of her husband.
Mankumari also wrote a number of stories and essays. Puratan Chhabi (1936) is a collection of her short stories. Her books of essays include Bangali Ramanider Grhadharma (1890) and Bibahita Striloker Kartabya. Many of her essays were written about the necessity of female education and the eradication of social corruption and superstitions. She regularly contributed to the magazine Bamabodhini.
She received several honours for her literary achievements, among them, the Kuntanil Award for her stories, 'Rajlaksmi', 'Adrsta-Chakra' and 'Shobha', a scholarship by the Indian government (1919), the Bhumanmohini Gold Medal (1939) and the Jagattarini Gold Medal (1941) from Calcutta University. In 1937, she presided over the poetry session of Bangiya Sahitya Sammelan (Bengal Literary Conference) held in Chandannagar. She died on 26 December 1943. [Wakil Ahmed]