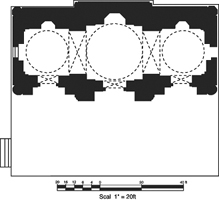 Bibi Mariam Mosque also called hajiganj mosque, situated at Hajiganj locality in Narayanganj. The mosque is said to have been built by Nawab Shaista Khan, Mughal subadar of Bengal (1664-1688), and ascribed to one Bibi Mariam, presumably his daughter, who is said to have laid buried close by in a tomb.
The mosque is of the three-domed type, the central dome being wider than the side ones. The reduction of the side domes is achieved by thickening the side walls instead of adding an intermediate half-dome as seen in some Mughal mosques. The basal leaf decoration of the domes and the battlemented merlons speak of the common style. The panel leaf decoration on the top of the roof is seen only on the front side.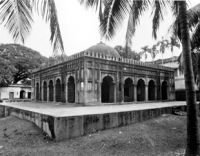 The eastern facade of the mosque has usual three arched entrances, each opening under a half dome, and the central one being wider than the side entrances. Two windows, one each on the south and north sides, seem to be of later innovation. The four engaged corner towers, almost merged within the wall, are extended beyond the parapet. The interior hall shows the simple lateral arches. The side bays are made square by thickening the side walls.
The mosque has been repaired and renovated several times. It has lost much of its original features through repairs, especially the corner towers are being completely modernised. A veranda on masonry pillars on the eastern side has completely overshadowed the front view. It is now being used as a jami mosque. [Muazzam Hussain Khan]