Bidi a roll of dried tobacco leaf made for smoking. For centuries, this indigenous substitute of cigarette has been popular in rural areas. Paper wrapped cigarettes were brought to India by the British only towards the end of the 19th century, and the first foreign cigarette company to get a market in Bengal was probably W D and H O Wills. This company went into mass production of cigarettes only in 1883. But its products remained beyond the reach of the common people of Bengal, a region that had a tradition of making bidi from local tobacco by the farmers themselves or in innumerable small and cottage industry units.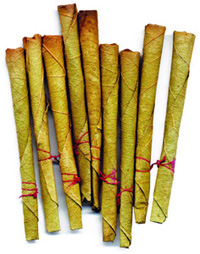 Before World War II, bidi was not produced on a large-scale in cottage or small industry units. The smokers themselves used to make them at home. In betel nut growing regions, the upper layer of betel nut leaves called khui paper was used to wrap up dried and powdered tobacco leaves.
The basic raw material for the bidi industry is tobacco leaf grown in different district of Bangladesh. The average annual production of leaf during the 3 years between 1972 and 1975 was 40,689 m ton, while the average production of bidi and other items of tobacco was 10,840 m ton. Corresponding figures for 1979-1982 were 45,997 m ton and 14,838 m ton.
According to a survey conducted by the Bangladesh Small and Cottage Industry Corporation in 1983, there were 1,330 bidi-manufacturing cottage industry units in the country. These units had a total fixed investment of Tk 15.303 million and provided employment to 5,075 workers, of whom 3,316 were family-hands and 1,699 were hired emploees. The value of raw material consumed in these units was Tk 39.139 million and the conversion cost was Tk 49.483 million.
The bidi industry in Bangladesh demonstrates a unique case where local entrepreneurs exhibited intelligence, foresight and investment ingenuity. People engaged in the industry as managers or labourers can be acclaimed for their labouring habit, punctuality and indigenous skills. Among the success stories of the sector are Fakirchand Bidi Factory, Bhandari Bidi Factory, Abul Bidi Factory and Akiz Bidi Factory. Sheikh Akiz, the owner of Akiz Bidi Factory, made a significant contribution to the sector by striving to overcome the difficulty created by stoppage of import of tendu leaf used to make quality bidi. He also trained local youths in the art of bidi making, which had undergone changes because of the introduction of paper wrapped bidi. The Akiz group, and following his example, many others successfully transformed their bidi making units into cigarette manufacturing ones. Most bidi entrepreneurs accumulate enough capital for diversifying their business and later became leaders of established groups of industries.
Bidi is an important element in the traditions of the rural society of Bangladesh. Like pan (betel leaf), bidi is traditionally offered to guests or to acquaintances in public places such as bazaars or tea-stalls. Women, however, do not favour the item. Further, not smoking bidi (or cigarette) in presence of seniors (like a boy in the presence of a father or an uncle, a student in the presence of his teacher, a subordinate in office in the presence of his superiors etc) is customary in the community. Smoking bidi is a regular habit among some women of tribal or ethnic groups in Bangladesh. Many people now smoke bidi just to enjoy its exotic taste. The product has recently been included in the list of exports from Bangladesh because of its demand from the West Bengalis and Bangladeshis who are now living abroad. [M Habibullah]