Boalkhali Upazila (chittagong district) area 145.44 sq km, located in between 22°20' and 22°25' north latitudes and in between 91°52' and 92°03' east longitudes. It is bounded by raozan and rangunia upazilas on the north, patiya upazila on the south, Rangunia upazila on the east, chandgaon thana and Karnafuli river on the west.
Population Total 287178; male 148467, female 138711; Muslim 218045, Hindu 62598, Buddhist 292, Christian 6079 and others 164.
Water bodies Main river: karnafuli.
Administration Boalkhali Thana was formed on 9 August 1910 and it was turned into an' upazila on 3 July 1983.
Upazila
Municipality
Union
Mouza
Village
Population
Density (per sq km)
Literacy rate (%)
Urban
Rural
Urban
Rural

-

10

35

34

51695

235483

1974

68.72

69.39
Upazila Town

Area (sq km)

Mouza

Population

Density (per sq km)

Literacy rate (%)

15.38

3

51695

3361

68.7
Union
Name of union and GO code
Area (Acre)
Population
Literacy rate (%)
Male
Female

Amchia 19

3217

6287

5769

77.07

Ahla Karaldanga 9

9276

8732

8245

67.87

Kandhurkhil 47

2445

15091

13441

76.65

Charandwip 28

1497

11249

10501

71.07

Purba Gomdandi 38

1720

14423

13935

66.15

Popadia 57

2564

12639

10908

77.84

Paschim Gomdandi

2560

17346

16547

47.22

Sakpura 76

2082

12097

11240

71.81

Sreepur Kharandwip 85

4513

11447

11258

64.46

Saroatali 66

2686

12636

11692

73.81
Source  Bangladesh Population Census 2001, Bangladesh Bureau of Statistics.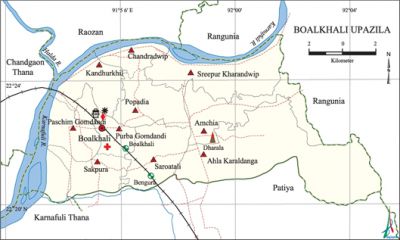 Archaeological heritage and relics Sreepura Bura Mosque, Dewan Vita (c. 1711), Mazar of Hzrat Bu-ali Kalandar (R) at Karaldanga, Kalachan Thakur Bari (Popadia), Lalar Dighi (Kandhurkhil), Kanungopara Shyam Roy Mandir and Medos Hermitage.
History of the War of Liberation Many people were killed or wounded in direct encounters between the freedom fighters and the Pak army at different places of the upazila like Kalurghat, Fakirni Dighir Par and Kanungo Para. The Pak army conducted mass killing at the premises of the Durgabari of Kandhurkhil on 13 October. They also conducted torture and plundering and set many houses on fire.
Marks of the War of Liberation Memorial monument 2 (Shaheed Shantimoy Khastogir and Shaheed Dilip Chowdhury at the premises of Sir Asutosh College, Kanungo Para).
Religious institutions Mosque 198, temple 40, church 1, pagoda 18, tomb 15.
Literacy rate and educational institutions Average literacy 69.06%; male 72.06%, female 65.87%. Noted educational institutions: Sir Asutosh Degree College (1939), Boalkhali Sirajul Islam Degree College (1970), Kandhurkhil Jalil Ambia Degree College (1970), Purna Chandra Sen Saroatali High School (1880), Sakpura Adarsha High School (1915), Kanungo Para Dr. Bibhutibhushan High School (1917), Charandwip Dewan Bibi Girls' High School (1921), Mukta Keshe Girls' High School (1928), Sakpura Probortak Girls' High School (1930), Sree Aurobindo Girls' High School (1943), Khitabchar Azizia Mabudia Aliya Madrasa (1970).
Newspapers and periodicals Monthly: Boalkhali, Boalkhali Barta (defunct), Somajchitra; Fortnightly: Alokito Boalkhali.
Cultural organisations library 15,' Club 1, sports organisation 1, women's association 1.
Special attractions Historical Karoldanga Hill, extended river bank of Karnafuli.
Main sources of income Agriculture 18.06%, non-agircultural labourer 4.40%, industry 0.52%, commerce 19.29%, transport and communication 3.49%, service 22.54%, construction 1.34%, religious service 0.50%, rent and remittance 12% and others 17.86%.
Ownership of agricultural land Landowner 39.07%, landless 60.93%.
Main crops Paddy, potato, jute, tobacco.
Extinct or nearly extinct crops Sugarcane.
Main fruits Guava, palm.
Fisheries, dairies and poultries This Upazila has a number of fisheries, dairies and poultries.
Communication facilities Pacca road 55 km, semi pacca road 140, mud road 291 km; railways 9 km; waterways 10.79 nautical miles.
Extinct or nearly extinct traditional transport Palanquin, bullock cart, 'horse carriage.
Noted manufactories Yarn mill, paper mill, ice factory, garments industry, salt industry, steel factory, ship construction factory.
Cottage industries Weaving, potteries, lime industry.
Hats, bazars and fairs Hats and bazars are 11, fairs 1; most noted of which are Murad Munshi Hat, Nurulla Munshi Hat, Kalai Hat, Chowdhury Hat, Zamadar Hat, Arnopurna Hat, Chadar Hat, Kanugopara Master Bazar and Hari Mandir Baishakhi Mela, Kalachan Thakur Bari Mela and Surjo Broto Mela.
Main exports Cloths, chicken and milk.
Access to electricity All the unions of the upazila are under rural electrification net-work; however, 61.96% dwelling households have access to electricity.
Sources of drinking water Tube-well 93.43%,' pond 2.25%, tap 0.37% and others 3.95%.
Sanitation 56.46% of dwelling households of the upazila use sanitary latrines and 38.08% of dwelling households use non-sanitary latrines; 5.46% of households do not have latrine facilities.
Health centres Upazila health complex 1, union health centre 6, family welfare centre 9.
NGO activities asa, proshika. [Golam Kibria Bhuiyan]
References Bangladesh Population Census 2001, Bangladesh Bureau of Statistics; Cultural survey report of Boalkhali Upazila 2007.