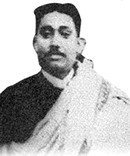 Bose, Rashbehari (1885-1945) a revolutionary leader against the British in India and an organiser of the indian national army. He was hunted by the police due to his active participation in the failed bomb throwing attempt directed at the Governor General and Viceroy lord charles hardinge in Delhi. But somehow he managed to escape British intelligence and reach Japan in 1923.
It was Bose who was instrumental in persuading the Japanese authorities to stand by the Indian nationalists and ultimately to support actively the Indian freedom struggle abroad. Bose convened a conference in Tokyo on March 28-30, 1942, which decided to establish the Indian Independence League. At the conference he moved a motion to raise an army for Indian liberation. He convened the second conference of the League at Bangkok on June 22, 1942. It was at this conference that a resolution was adopted to invite subhas chandra bose to join the League and take its command as its president.
The Indian prisoners of war captured by the Japanese in the Malay and Burma fronts were encouraged to join the Indian Independence League and become the soldiers of the Indian National Army (INA), the military wing of Bose's Indian National League. But his rise to actual power and glory was unfortunately terminated by an action of the Japanese military command, which expelled him and his general Mohan Singh from the INA leadership. But though he fell from grace, his organisational structure remained, and it was on the organisational spadework of Rashbehari Bose that Subhash Chandra Bose later built the Indian National Army (also called 'azad hind fauj'). Before his death the Japanese Government honoured him with the 'Second Order of the Merit of the Rising Sun'.
Born in Subaldaha village of Burdwan, Bose had his education in Chandannagar, where his father, Vinodebehari Bose, was stationed. He was involved in revolutionary activities early in his life and was implicated in the Alipore Bomb case (1908). After being released from jail, he went to Dehradun and worked there as a head clerk at the Forest Research Institute. At Deradun he secretly got in touch with the revolutionaries of Bengal, United Province, and the Punjab. His involvement in many revolutionary activities aroused the suspicion of the government and ultimately he was obliged to leave the country. [Sirajul Islam]