Centre for the Rehabilitation of the Paralysed
Centre for the Rehabilitation of the Paralysed (CRP) is a benevolent organisation. It is now situated at a place called Chapain in Savar near Dhaka. A British lady named Valerie Ann Taylor founded the CRP on 11 December 1979. It started with only four patients in two deserted warehouses of Shaheed Suhrawardy Hospital in Dhaka. After running its services through non-governmental aid at different places for a period of 11 years, it was eventually transferred to its present location in Savar in 1990. At present, CRP is s full-fledged hospital and a rehabilitation centre for the paralysed. Patients from all walks of life (rich and poor) are treated and rehabilitated here.
The aim of CRP is to provide medical care to the paralysed and to improve the overall quality of life of the disabled. Medical treatment and rehabilitation services are provided according to the physical, mental, social and economic needs of the patients. Integrating the disabled people in the mainstream society is also an aim of the CRP.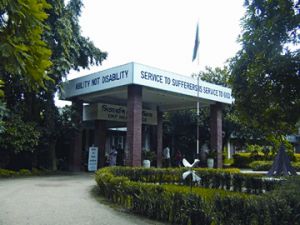 CRP facilities include a 100-seat hospital for the paralysed men and women. It has a pediatric unit for the disabled children and an outdoor medical centre for the outpatients. Besides, it runs a good quality educational institution in order to rehabilitate the paralysed through providing them with vocational training. It has built a 14-storied building at Mirpur in Dhaka with 22 general beds, 16 private rooms, and additional 11 beds for maternity care. For the people of Dhaka to benefit from CRP services, it has also outdoor medical services. It provides ramp services up to the sixth floor for the wheel-chaired patients. This Mirpur branch has been functioning since 2003 in order to sustain its economic viability. CRP has started community-based rehabilitation (CBR) programmes in different places in Bangladesh to treat, train and rehabilitate the disabled people locally.
CRP is dependent on the donation of different local and foreign donor organisations, businesses and social bodies, and of different individuals. Poor disabled patients are given medical and rehabilitation services on a non-profit basis or free of cost. CRP's income-generating programmes are fisheries, poultry firms and nursery plants. It sells seasonal fruits and handicrafts. It also gets sale proceeds from selling wheelchairs and other products and rent-money of guesthouses. [Tuhin Roy]