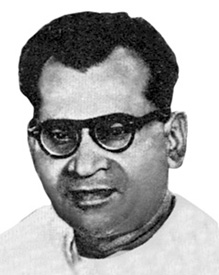 Chatterji, Suniti Kumar (1890-1977) linguist, educationist, litterateur, was born on 26 October, 1890 at Shivpur in Howrah. Son of Haridas Chattopadhyay, Suniti Kumar was meritorious as a student, and passed the Entrance (1907) Examination from Motilal Shil Free School, ranking sixth, and the FA from Scottish Church College, standing third. In both the BA Honours in English (1911) and MA (1913) examinations he stood first. For his performance in sanskrit, he got the premchand roychand studentship and the Jubilee Research Award. He did his diploma in Phonetics (1909) and DLitt (1921) from London University on an Indian government scholarship. In London, he studied Phonology, Indo-European Linguistics, Prakrit, Persian, old Irish, Gothic and other languages. He then went to Paris and had research at the Sorbonne in Indo-Aryan, Slav and Indo-European Linguistics, Greek and Latin. Returning to India in 1922, he joined Calcutta University as professor. After retirement he was made Professor Emeritus and, in 1963, National Professor.
Suniti Kumar accompanied rabindranath tagore to Malaya, Sumatra, Java, and Bali, where he delivered lectures on Indian art and culture. He represented Calcutta University at the second session of the International Conference on Phonetic Sciences in London and took part in conferences on linguistics in Asia, America, Australia and Africa. As a visiting professor he delivered lectures at both Indian and foreign universities.
He presided over the national language panel of the All-India Hindi Conference in Karachi. He was Speaker of the West Bengal Assembly (1952-58) and President (1969) of the Sahitya Academy.
Among his important publications on both language and literature are the origin and development of the bengali language, Bengali Phonetic Reader, Bangla Bhasatattver Bhumika (Introduction to Bangla Linguistics), Bharater Bhasa O Bhasa Samasya (Language and Language Problem of India), Jati Sangskrti Sahitya (Nation, Culture, Literature), Sangskrti Ki (What is Culture), Rabindra Sabgame (Towards Unity with Raindranath), Pashchimer Yatri (Traveller to the West), Europe Bhraman (Travels in Europe), Dvipamay Bharat (India of Many Islands), etc. He was awarded the title of Bhasacharya by Rabindranath Tagore, Sahitya Vachaspati (1948) by Allahabad Hindi Literary Conference and Padmabibhusan (1948) by the Government of India. Suniti Kumar died on 29 May 1977 in Calcutta. [Badiuzzaman]