Chelmsford, Lord (1868-1933) was the Viceroy and Governor General of India from 1916 to 1921. Born on 12 August 1868 he was educated at Winchester and Magdalen College, Oxford. He succeeded to Baronage in 1905, served as governor of Queensland (1905-1909) and New South Wales (1909-1913) in Australia. In 1916 he succeeded Lord hardinge as the Viceroy of India. His period in India began under the shadow of the defeat of British army in Mesopotamia and Indian discontent as the First World War progressed. In response to Indian loyalty to British war-efforts, Edwin Montagu, the Secretary of State for India, declared in the House of Commons that the ultimate aim of the British government in India was 'the progressive realisation of responsible government in India'.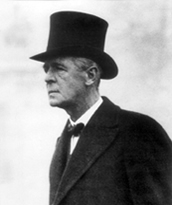 Chelmsford along with the Secretary of State began in the last year of the war to work on the promised reforms. The montagu-chelmsford report, published in 1918, were incorporated into the Government of India Act, 1919 recommending limited representative government and a divided control in the administration of the provinces, creating what was known as dyarchy. The proposed reforms came into operation in 1921 immediately before the expiry of Chelmsford's term of office. But these reforms did not appease the nationalist leaders of India; political unrest, therefore, became widespread which might have been avoided by following a prudent policy. 
But Chelmsford took a very unwise step and appointed Justice Rawlatt as chairman of a committee to look into the state of affairs. On the recommendation of the committee the government passed the Rawlatt Act in 1919 which empowered the judges to try political cases without the assistance of juries and gave provincial government wide powers to arrest for political offences. The situation worsened when the Act was given effect to and people became restive to protest such punitive laws. The government pronounced Martial law in a number of places including the Punjab where the Lieutenant Governor, Michael O'dyer and the GOC, General Dyer, committed severe atrocities.
A peaceful crowd, which had met at Jallianwala Bag in Amritsar to attend a political meeting, was mown down by machine-guns. Elsewhere people were subjected to humiliating penalties like public flogging and crawling in the dust under the hot sun. Chelmsford practically did nothing to stop these punitive measures, repress the offenders and redress the cruelty committed.
This attitude alienated Indian feelings and Chelmsford was recalled in 1921. He was created a Viscount in the same year and served MacDonald's Labour Government as the first lord of the admiralty in 1924. He died on 1 April 1933. [KM Mohsin]