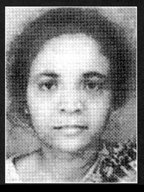 Choudhury, Ayesha Bedora (1935-1971) physician, martyr during the War of Liberation. She was born on 6 April 1935 in Kolkata. Her father was Imaduddin Choudhury and mother Kaniz Fatema Mahmud.
Ayesha Bedora passed Matriculation examination in 1949 and 1.Sc in 1951 from Victoria Institution of Kolkata. She obtained MBBS degree in 1956 from National Medical College, Kolkata. She got gold medal twice for her outstanding result in examination.
Ayesha started her career in Gauhati Government Hospital, Assam. In 1964 she joined Dhaka Medical College as Lecturer. Later she served as Medical Officer in State Bank of Pakistan, Dhaka.
Ayesha was involved in left politics from her student life. During the war of liberation she gave medical treatment to the injured freedom fighters and provided them with shelter.
On the very day when the Pakistan army surrendered (16 December 1971) she went to the house in Road No.18 of Dhanmondi where Begum Fazilatunnesa, wife of Bangabandhu Sheikh Mujibur Rahman, was interned along with her two daughters. But the Pakistani army on duty at the gate of the house fired at her car. Ayesha and her driver Monir Ahmad succumbed to his bullet instantly. [Bayzid Khurshid Reaz]