Chowdhury, AQM Badruddoza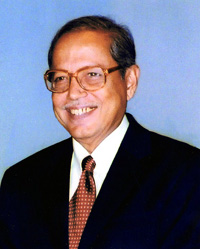 Chowdhury, AQM Badruddoza (1932- ) was sworn in as President of the People's Republic of Bangladesh on 14 November 2001 and held office till 21 June, when he resigned. Born on 1 November 1932 in Munsif Bari, Comilla (in maternal grandfather's house) Prof Chowdhury hails from a respectable Muslim family of Majidpur Dayhata, Srinagar (in the historic Vikramapura), munshiganj district.
Second son of late Kafil Uddin Chowdhury (Minister in East Pakistan and an architect of the united front in 1954) and Mrs Sufia Khatun, he was educated at St Gregory's High School, Dhaka College, Dhaka Medical College and University of Wales, UK. He pursued post-graduate medical education at Edinburgh, London Brompton Chest Institute, Post Graduate Medical School at Hammersmith, London. All through a brilliant student he secured the first position in the MBBS examination.He obtained MRCP from Royal College of Physicians at Edinburgh (1961) and Glasgow (1961) and TDD from Wales University (1959). He was elected FCPS (Bangladesh) as the Honorary Fellow, 1978; Fellow to the Royal College of Physicians, Edinburgh and Glasgow (FRCPE, FRCPG).
Prof Chowdhury started his career in the medical profession, and served as Associate Professor of Medicine in Rajshahi Medical College (1964) and sir salimullah medical college (1964-70) and Professor of Medicine in Sylhet Medical College (1970). He came to be regarded as one of the topmost Specialist Internist in the country. He served as President of National Anti-Tuberculosis Association of Bangladesh (NATAB) for a number of times; President of International Union Against Tuberculosis of Lung Diseases (IUATLD) of Asia Pacific Zone (with headquarters in Paris). He has published a number of medical papers in national and international journals.
He joined politics in 1979 when President ziaur rahman founded the bangladesh nationalist party; he was its founding Secretary General. Badruddoza Chowdhury was appointed Deputy Prime Minister (Senior) in President Ziaur Rahman's Presidential Cabinet, 1979 in charge of the Ministry of Health and Population; senior most Minister in begum khaleda zia's cabinet, 1991 in charge of the Ministry of Education and Science and Technology and Culture. Elected Member of Parliament five times from his home constituency, Munshiganj-1, he played an effective role in the Parliament as the Deputy Leader of the House (1978-82, 1991-96) and Deputy Leader of the Opposition Parliamentary Party (1996-2001). In October-November 2001 he was made Foreign Minister in Begum Khaleda Zia's cabinet before his election to the presidential post. He resigned from all positions of Bangladesh Nationalist Party before taking oath of office of President on 14 November 2001. However, his tenure of office was short-lived; he resigned on 21 June 2002 in consequence of a conflict with his party.
Since then he founded a political party, 'Bikalpa Dhara', with the intention of building a terrorism-free, corruption free, liberal democratic culture in Bangladesh. He is also involved in the activities of the Health and Welfare Trust, of which he is the founder-chairman. He has continued his medical profession and works as the Honourary Professor of Medicine in the Women's Medical College at Uttara, the first medical college for women in the country founded by his Health and Welfare Trust.
Badruddoza Chowdhury led the delegation to International Conferences on Tuberculosis and Chest Diseases, New Delhi, 1974; Seoul, Korea, 1976; Istanbul, 1977; Brussels, 1978 and Brighton, UK, 1978. He headed the Bangladesh delegation to the World Health Conference Geneva, 1978 and 1979. He was the Alternate Leader of the Bangladesh delegation to the UN General Assembly Session 1981, and Member of Bangladesh delegation on UN's 50th anniversary.
A cultural activist, an author, essayist, playwright and an orator of distinction, Prof Chowdhury was awarded the National Television Award, 1976 and the Independence Day Award, 1993. [AM Chowdhury]