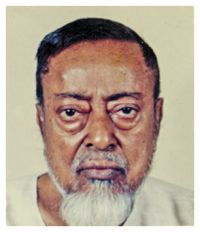 Chowdhury, Mahmudun Nabi (1908-1995) politician, social activist. He was born on 7 January 1908 at Uttar Kattali in Chittagong. His father was Khadem Ali Chowdhury and mother Alfun Nesa. He passed matriculation examination in 1930 from Government Muslim High School, I. Sc from Chittagong College in 1932 and obtained his BSc degree from the same college in 1934.
In 1934, Mahmudun Nabi took a job in Calcutta Metrological Department. He was a part time accountant in Maulana Company in Kolkata in 1936. He opened a shop styled as Chowdhury and Brothers in 1937 in Lower Chitpur Road, Kolkata dealing in cloth. After partition, he started business in 1948 at Khatunganj in Chittagong.
Mahmudun Nabi Chowdhury was active in politics. He was elected commissioner of Chittagong Municipality in 1949. He joined Krishak-Sramik Party in 1953 headed by AK Fazlul Huq. He was elected a member of the Provincial Assembly from Double-Mooring-Sitakunda constituency as a candidate of united front. He was a minister in the United Front cabinet in charge of the Ministry of Public Relations and later the Ministry of Relief and Rehabilitation. The notable works under his ministry were the establishment of Film Development Corporation (FDC), construction of embankment in the coastal area and introduction of test relief. With the promulgation of martial law in 1958 he resorted to anti-Ayub stand.
Chowdhury was elected as president of Chittagong Chamber of Commerce and Industries in 1962. With the floating of National Democratic Front (NDF) in 1962 he became the vice-president of provincial unit and president of Chittagong district unit of the party. He was the president of Chittagong district unit of Pakistan Democratic Movement (PDM). He had vital role in the anti-Ayub movement in 1969 through Democratic Action Committee (DAC). In the National Assembly elections of 1970, he contested as a candidate of PDP, but was defeated. Chowdhury was a supporter of undivided Pakistan. During the liberation war in 1971 he was the chief of the Chittagong district Peace Committee. He died in Chittagong on 6 August 1995. [Mohammad Mostafa Kamal]