Chowdhury, Mizanur Rahman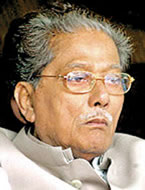 Chowdhury, Mizanur Rahman (1928-2006) politician, Prime Minister of Bangladesh. He was born on 19 October 1928 at Chandpur in Comilla district. His father was Mohammad Hafiz Chowdhury and mother Mahmuda Chowdhury. On completion of his primary education in Chandpur Primary School he studied in new scheme course in Nuria High Madrasa. He graduated from Feni College in 1952.Mizanur Rahman Chowdhury started his career as the Headmaster of Bamni Junior High School at Tal Mohammad Hat in Companyganj thana of Noakhali district. While working in this school he was selected in Provincial Public Service Commission and joined government service. Later he resigned from government service and joined Nuria High Madrasa in Chandpur as honorary English teacher.
Mizanur Rahman Chowdhury got involved in student politics early in 1944. He was then assigned to organise the All Bengal Muslim Student League. He was elected vice president of the Comilla district unit of All India Muslim Students League in 1945. He was appointed as Captain of Muslim League Volunteer Corps in 1946. In 1948, he was elected as general secretary of Chandpur Muslim Chhatra League and general secretary of students union of Chandpur College. In 1950, he was elected as general secretary of Feni College students union. He actively participated in the language movement in 1952.
Mizanur Rahman Chowdhury was elected vice chairman of Chandpur Municipality in 1959. In 1962, he was elected a member of the National Assembly. He was arrested in December 1964 under Public Safety Ordinance. He was released on the eve of the National Assembly election, and was elected a member of the National Assembly in 1965. He was again elected a member of National Assembly in 1970. In 1966, Chowdhury was elected as the organising secretary of East Pakistan Awami League and later as acting general secretary of the Party. During this time he organised the historic 6-Point Movement. He was the chief organising convenor of the strike on 7 June 1966. On 22 June of the same year he was arrested under Defense of Pakistan Rules and was released by the order of the Supreme Court in November 1967. He was made convenor of the combined opposition party (COP) in 1968. He was one of the architects of mass upsurge of 1969.
Mizanur Rahman Chowdhury actively participated in the War of Liberation in 1971. At the beginning of the war he along with local leaders of Chandpur created initial resistance. He reached Agartala along with Malek Ukil and some Awami League activists. In a meeting of the central leaders of Awami League he was entrusted with the responsibility of organising the Party during the war of liberation.
After liberation, Mizanur Rahman Chowdhury was the Minister in the first cabinet of Bangladesh in 1972 in charge of the Ministry of Information and Radio. In 1973 Mizanur Rahman Chowdhury was again elected a member of the Jatiya Sangsad and was included in the cabinet in charge of the Ministry of Rehabilitation. He was again elected as member of the Jatiya Sangsad in 1979. He led the Bangladesh delegation in the Commonwealth Parliamentary Conference held in Srilanka in 1974 and was nominated as a member of the executive committee of the Commonwealth Parliamentary Organisation from the single member quota of Asia. He was the Minister of Post and Telegraph in 1985. He was elected a member of the Jatiya Sangsad in 1986. Mizanur Rahman Chowdhury was made the Prime Minister in the cabinet of President Ershad on 9 July 1986, and continued in this position till 27 March 1988. He was elected a member of the Jatiya Sangsad in 1988. Mizanur Rahman Chowdhury led the Bangladesh delegation to the 8th Non-aligned conference held at Harare in Zimbabewe. In the bye-election of 1991 he was elected a member of the Jatiya Sangsad. He joined Awami League again in 2001 and had been the Advisor to the Party till his death. He died in Dhaka in February 2006. [Abu Md. Delwar Hossain]