Chowdhury, Mosleh Uddin Ahmed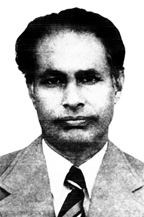 Chowdhury, Mosleh Uddin Ahmed (1924-2010) Veterinarian, Eductionist and Vice-Chancellor of Bangladesh Agricultural University, Mymensingh. Born in 1924 in Golapganj upazila of Sylhet district. He received his graduation in veterinary science from Calcutta Veterinary College and MRCVS from Royal Veterinary College of UK.
He began his career as a lecturer in East Pakistan Veterinary College in 1953 and was gradually promoted to the position of a professor. He then joined the bangladesh agricultural university (BAU) as a professor in the faculty of Veterinary Science on deputation in October 1961. He was the Professor and Head in the department of Pharmacology from 1961 to1963 and there after in the department of Microbiology and Hygine from 06 March 1965 to October 1980. As a teacher, researcher, administrator and Vice Chancellor of BAU he worked very hard for development of agricultural education, particularly for the expansion of veterinary education and research. He worked for the Directorate of Livestock Services from 20 November 1963 to 05 March 1965 and again from 01 July 1971 to 17 January 1972. Other then these two periods, he worked at BAU on deputation.
He was appointed as the 6th Vice-Chancellor of BAU on 24 November 1973 and remained in that position until October 1980. This popular Vice-Chancellor occupied several dignified positions as Faculty Dean, Students Affairs Adviser of BAU and in different committees on education and research at home and abroad. He published a large number of research and popular articles in national and international journals. He was elected as the Chairman of Bangladesh Veterinary Council and Bangbandhu Krishibeed Parishad after he had retired from his regular service. He was awarded' the Gold Medal of Krishibid Institution Bangladesh in 2010 for his significant contribution in agricultural education. Mosleh Uddin Ahmed Chowdhury died in Dhaka on 14 August 2010. [Jahangir Alam]