Chundrigar, Ibrahim Ismail
Chundrigar, Ibrahim Ismail (1898-1968) politician, Prime Minister of Pakistan. Born on 15 April 1898 in Ahmedabad, Ibrahim Ismail Chundrigar was educated at Bombay University. He began his career as a lawyer at Ahmedabad. In 1924 he became a member of the Ahmedabad Municipal Corporation. Chundrigar was elected to the Bombay Legislative Assembly from Ahmedabad district rural constituency in February 1937.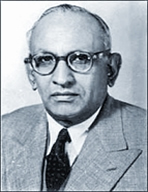 He joined the Bombay High Court bar in September 1937. Chundrigar was elected Deputy Leader of the Muslim League Parliamentary Party in 1938. He was the President of the Bombay Provincial Muslim League (1940-1945) and, during the interim government, became a member of the cabinet in charge of commerce. He was appointed Minister for Trade and Commerce in the first cabinet of Independent Pakistan in 1947. Later on he served as ambassador of Pakistan to Afghanistan, Governor of the North West Frontier Province, Governor of West Punjab and Minister for Law.
Following the resignation of Huseyn Shaheed Suhrawardy from the Premiership in October 1957, President Iskander Mirza appointed I. I Chundrigar as the interim Prime Minister. Chundrigar headed a coalition government which included Krishak Sramik Party, Nizam-e-Islam Party, Muslim League and Republican Party. The Muslim League had agreed to form a coalition government with the Republican Party on condition that the principle of separate electorate would be implemented in the country by amending the Electoral Act. But after the formation of the cabinet the ministers from East Pakistan and the Republican Party started opposing the proposed amendments. President Iskander Mirza exploited the differences between the parties and made Chundrigar an easy victim to the situation. He was Prime Minister only for two months.
Ibrahim Ismail Chundrigar died in Lahore on 13 March 1968. [Abu Jafar]