Dhaka Medical College and Hospital
Dhaka Medical College and Hospital (DMCH) established in 1946, it took about 10 years for the institution to get started after completion of government formalities. The Dhaka Medical College and its affiliate, Dhaka Medical College Hospital, were accommodated in a building constructed in 1904 as the Secretariat Building for the province of East Bengal and Assam. The building was transferred to the university of dhaka in 1921. One part of it was converted into the university's medical centre, another part into a student dormitory, while the residual part was allotted for use as the academic wing of the Faculty of Arts.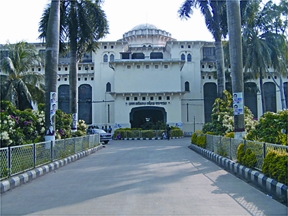 The whole building was used as 'American Base Hospital' during World War II. When the Americans left, a one hundred bed hospital was established in it. This created the base of the DMCH, which at the beginning had only four departments - Medicine, Surgery, Gynaecology and ENT.
The institute did not have any hostel for students. Male students were allowed to reside in Dhaka University's student halls, but girls had to attend classes from their homes. After the partition of Bengal in 1947, a large number of students came from Calcutta Medical College and sought admission in Dhaka Medical College. Similarly, many left Dhaka Medical College for Calcutta. The college and hospital premises were expanded in new temporary sheds, some of which were built for outdoor services of the hospital and some others for students' hostels. New buildings for hostel, college and hospital were constructed in phases: a hostel for girls in 1952, a hostel for male students in 1954-55, a new complex of academic buildings in 1955, and a hostel for internee doctors in 1974-75.
The college has now 12 departments- anatomy, physiology, biochemistry, pharmacology, community medicine, forensic medicine, pathology, microbiology, medicine, surgery, nuclear medicine, and obstetrics and gynaecology. There are 8 laboratories for each of the department of physiology, biochemistry, pharmacology, pharmacy, histology, histo-pathology, clinical pathology, and microbiology. The college has about 176 teachers and about 1200 students. The annual intake of fresh students in its undergraduate programme is 175. The postgraduate courses offered by the college include master of surgery (MS) in branches like urology, neurosurgery and orthopaedic surgery, doctor of medicine (MD) in paediatrics, master of philosophy (MPhil) in radiology, and diplomas in a number of disciplines such as anaesthesiology, ophthalmology, laryngology, gynaecology and obstetrics, child health and cardiology. Dhaka Medical College and DMCH were under one administration until 1975, when they were made two different entities with a Principal as the head of the college and a Director as the chief administrator of the hospital. The two institutions, however, continue to complement each other. The various buildings of DMCH and its other facilities excluding the medical college now stand on about 25 acres of land. It has 28 departments and 36 wards, 234 full-time doctors, 380 internee doctors, 560 nurses, 24 paramedics, and 1,104 other staff. The number of beds in wards, units and cabins total about 1,800 of which 130 are paying beds and 128 are in cabins. Its occupancy rate is about 130%. It provides both indoor and outdoor services and serves about 3,000 outdoor patients daily. [SM Monowarul Islam]