Dhamoirhat Upazila (naogaon district) area 300.80 sq km, located in between 25°01' and 25°13' north latitudes and in between 88°40' and 88°57' east longitudes. It is bounded by west bengal state of India on the north, badalgachhi and patnitala upazilas on the south, joypurhat sadar upazila on the east, Patnitala upazila on the west.
Population Total 169693; male 87862, female 81831; Muslim 146460, Hindu 11163, Buddhist 5069, Christian 61 and others 6940. Indigenous community such as santals belongs to this upazila.
Water bodies Main rivers: atrai, little jamuna; Chat canal are notable.
Administration Dhamoirhat Thana was formed in 1922 and it was turned into an upazila on 1 march 1984.
Upazila
Municipality
Union
Mouza
Village
Population
Density (per sq km)
Literacy rate (%)
Urban
Rural
Urban
Rural

-

8

212

260

9879

162814

564

58.9

47.4
Upazila Town

Area
(sq km)

Mouza

Population

Density
(per sq km)

Literacy rate (%)

4.60

2

6879

1495

58.92
Union
Name of union and GO code
Area (acre)
Population
Literacy rate (%)
Male
Female

Agra Digun 28

74331

87862

81831

47.86

Aranagar 31

9507

11992

11123

55.42

Alampur 21

9615

11725

10761

46.70

Isabpur 52

9283

10933

9970

42.86

Omar 84

9818

13519

12509

53.82

Khelna 77

8687

7600

7099

40.61

Jahanpur 63

7537

11877

11159

41.94

Dhamoirhat 42

9370

11367

10572

49.63
Source Bangladesh Population Census 2001,Bangladesh Bureau of Statistics.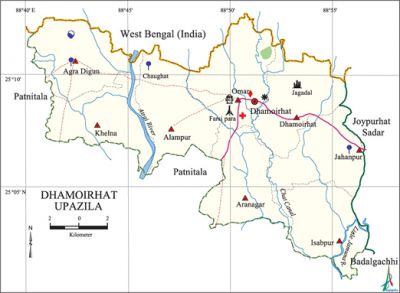 Archaeological heritage and relics Jagadal Maha Vihara at Mahisantosh, Haragouri Mandir, Alta Dighi, Vimer Panti.
History of the War of Liberation During the war of liberation the Pak army had camps at places like Farsipara, Pagla Dewan, Rangamati etc. Direct encounters between the Pak army and the freedom fighters were held at Piral Danga, Gangra, Kulfatpur and Rangamati with heavy casualty on both sides. The Pak army burnt and sacked the village Kulfatpur and killed 14 innocent villagers. In a direct encounter between the freedom fighters and the Pak army at Mahisantosh, 25 Pak soldiers were killed and so were freedom fighters Sree Pratap Chandra, Sree Upen and Abu Bakkar. Another encounter was held at Agra Digun between the freedom fighters and the Pak army in which Muktijoddha A Kader was killed.
Marks of the War of Liberation Mass grave 2 (Farsipara, Pagla Dewan).
Religious institutions Mosque 285, temple 64, church 22, mission 1, tomb 7.
Literacy rate and educational institutions Average literacy 47.9%; male 50.7%, female 44.8%. Educational institutions: college 15, secondary school 33, primary school 105, community school 8, NGO School 80, kindergarten 3, madrasa 45. Noted educational institutions: Dhamoirhat M.M Degree College (1970), Jagadal Adivasi School and College (1972), Dhamoirhat Mahila College (1995), Dhamoirhat Sufia Pilot High School (1904), Mangal Bari Sirajia High School (1917), Dhamoirhat Siddiqia Fazil Madrasa (1974), Mahmudpur Fazil madrasa (1959), Raghunathpur Fazil Madrasa (1965).
Newspapers and periodicals Barendra Barta (defunct) .
Cultural organisations Library 1, club 45, cinema hall 2, museum 1, women's organisation 1, playground 30.
Main sources of income Agriculture 83.10%, non-agricultural labourer 1.80%, industry 0.58%, commerce 7.14%, transport and communication 1.12%, service 3.08%, construction 0.51%, religious service 0.10%, rent and remittance 0.04% and others 2.53%.
Main crops Paddy, wheat, jute, mustard, pulse, vegetables.
Extinct or nearly extinct crops Local varieties of paddy, kaun, sesame, arahar, barley, bazra.
Main fruits Mango, blackberry, jackfruit, banana, litchi, papaya, guava, watermelon.
Fisheries, dairies and poultries Fishery 26, dairy' 7, poultry 45.
Communication facilities Pucca road 85 km, semi-pucca road 10 km, mud road 310 km; bridge 11.
Extinct or nearly extinct traditional transport Palanquin, dhuli, horse carriage, bullock cart.
Noted manufactories Biscuit factory, ice factory, welding factory.
Cottage industries Goldsmith, potteries, blacksmith, weaving, bamboo work.
Hats, bazars and fairs Hats and bazars are 25, fairs 9, most noted of which are Madarer Mela at Shankarpur, Shyampur Mela, Gakul Mela.
Main exports Banana, watermelon, vegetables.
Access to electricity All the unions of the upazila are under rural electrification net-work. However 6.25% of the dwelling households have access to electricity.
Sources of drinking water Tube-well 95.59%, tap 0.09%, pond 0.15% and others 4.40%.
Sanitation 9.60% (rural 4.53% and urban 36.59%) of dwelling households of the upazila use sanitary latrines and 26.54% (rural 26.43.% and urban 29.35%) of dwelling households use non-sanitary latrines; 63.86% of households do not have latrine facilities.
Health centres Upazila health complex 1, Christian mission hospital 1, satellite health centre 2, family welfare centre 5, clinic 1, community clinic 8, homeo dispensary 23, ayurvedic dispensary 5.
NGO activities brac, caritas, tmss, asa, IRDA, Asray, Manab Sheba Sangstha. [Md. Badiul Alam]
References Bangladesh Population Census 2001, Bangladesh Bureau of Statistics; Cultural survey report of Dhamoirhat Upazila 2007.