Dighalia Upazila (khulna district) area 77.17 sq km, located in between 22°50' and 22°59' north latitudes and in between 89°33' and 89°40' east longitudes. It is bounded by abhaynagar and kalia upazilas on the north, khalishpur thana and rupsa upazila on the south, terokhada upazila on the east, daulatpur and khan jahan ali thanas and Abhaynagar upazila on the west.
Population Total 120782; male 63751, female 57031; Muslim 99352, Hindu 20859, Buddhist 558 and others 13.
Water bodies Main rivers: bhairab, chitra, nabaganga; Majul Canal, Kachua Beel, Nandan Pratap Beel, Hazir Hat Beel and Thakurjhi Dighi are notable.
Administration Dighalia Thana was turned into an upazila on 12 January 1987.
Upazila
Municipality
Union
Mouza
Village
Population
Density (per sq km)
Literacy rate (%)
Urban
Rural
Urban
Rural

-

4

30

42

-

120782

1565

-

55.15
Union
Name of union and GO code
Area (acre)
Population
Literacy rate (%)
Male
Female

Gazir Hat 66

6512

11946

10924

44.77

Dighalia 57

3834

14516

13552

57.90

Barakpur 17

6083

10646

9944

43.11

Senhati 85

2639

26643

22611

63.25
Source Bangladesh Population Census 2001,Bangladesh Bureau of Statistics.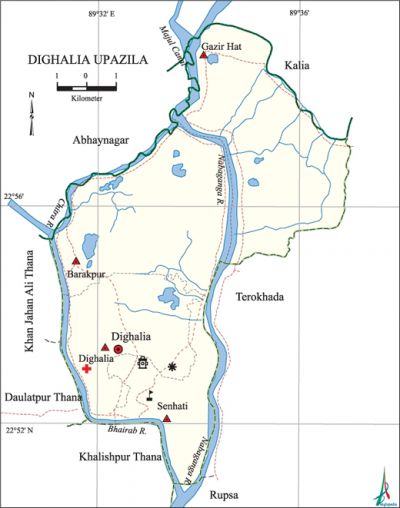 Archaeological heritage and relics Kali Mandir (Senhati Shiva Bari), Basu Deva Mandir, Khan Jahan Ali Dighi at Panihati.
History of the War of Liberation During the war of liberation in 1971 the Pak army conducted heavy genocide, plundering and also set many houses on fire in the upazila. A number of freedom fighters of the upazila were killed in direct encounters with the Pak army.
Literacy rate and educational institutions Average literacy 55.15%; male 59.16%, female 50.64%. Educational institutions: college 2, secondary school 21, primary school 43, madrasa 1. Noted educational institutions: Dighalia MA Majid College, Senhati Secondary School (1877), Lakhahati Secondary School (1969), Radha Madhabpur Government Primary School (1916).
Cultural organisations Club 10, cinema hall 1, community centre 4.
Main sources of income Agriculture 26.81%, non-agricultural labourer 5.85%, industry 5.28%, commerce 13.37%, transport and communication 2.62%, service 34.02%, construction 1.07%, religious service 0.26%, rent and remittance 0.54% and others 10.54%.
Ownership of agricultural land Landowner 47.24%, landless 52.76%.
Main crops Paddy, wheat, sesame, mustard, betel leaf, vegetables.
Extinct or nearly extinct crops Sugarcane, jute.
Main fruits Mango, jackfruit, litchi, coconut, banana, papaya, wood-apple, sapodilla, star-apple, blackberry.
Fisheries, dairies and poultries This upazila has a number of fisheries, dairies, poultries and hatcheries. Communication facilities Pucca road 77.8 km, semi-pucca road 42.14 km, mud road 157.77 km; waterway 38 nautical miles.
Extinct or nearly extinct traditional transport Palanquin, bullock cart.
Noted manufactories Jute mill, welding factory.
Cottage industries Goldsmith, potteries, blacksmith, embroidery, bamboo and wood work.
Hats, bazars and fairs Hats and bazars are 16, most noted of which are Senhati, Batibhita, Lakhahati bazars and Kolar Hat, Gazir Hat, Majhirganti Hat and Kali Puja, Baishakhi and Eid melas.
Main exports Betel leaf, banana, papaya, vegetables.
Access to electricity All the unions of the upazila are under rural electrification net-work. However 52.55% of the dwelling households have access to electricity.
Sources of drinking water Tube-well 95.96%, pond 0.51%, tap 1.83% and others 1.70%.
Sanitation 69.43% of dwelling households of the upazila use sanitary latrines and 27.03% of dwelling households use non-sanitary latrines; 3.55% of households do not have latrine facilities.
Health centres Upazila health centre 1, satellite clinic 3, union health and family centre 7, clinic 1.
NGO activities Operationally important NGOs are' brac, asa, CARE, Nabolok, Prodipan. [Md Mamun Reza]
References Bangladesh Population Census 2001, Bangladesh Bureau of Statistics; Cultural survey report of Dighalia Upazila 2007.