Dried Fish edible fishes preserved through removal of moisture. Fish drying as a means of preservation has been practiced since time immemorial in this region, and dry fish is considered as a delicacy in the menu of many people of Bangladesh. The basic principle of fish drying is that the activity of the muscle enzyme and microorganism is reduced to a minimum through drawing out the water content of the fish by sun drying in a traditional way. Fish drying is carried out in some selected coastal areas and inland depressions of Bangladesh where modern preservation facilities and good infrastructure for transportation are absent. Some important spots are: Dublar Char of sundarbans, st martin's island, Rangabali, Sonadia Island, Moheshkhali, Cox's Bazar, lbrahimpur of Sunamganj, and Joshomantapur of Jamalganj. Estuarine and marine set bag nets (Behundi) are the main gears for supplying fishes for drying; harvested fishes are carried to the drying yards and then segregated species-wise by hired labourer.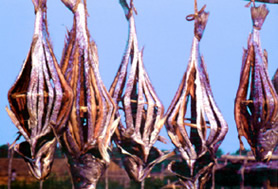 The important marine and freshwater species that are dried are Loitya (Harpodon neherius), Chhuri (Lepturacanthus savala), Punti (Puntius sarana, P. stigma), chapila (Gadusia chapra), Lakhua (Polynemus indicus), Rupchanda (Pampus chinensis), and shrimps (Metapenaeus species and Penaeus species).
Two to eight days are required for drying depending on the size and species of the fishes. The segregated fishes are placed on mats, or hung from raised racks/poles. The dry fishes are often infested by blow fly (Chrysomya species) and their larvae (maggot) during the drying phase, especially in the cloudy and rainy days; and by beetle (Necrobia species) and mites in the store causing considerable amount of weight loss of the finished product every year. To protect the products from the infestation of insects, the merchants often use various harmful insecticides and fungicides. But the availability of sterilization of dried fishes by radiation can ensure pollution-free environment. Institute of Food and Radiation Biology of Bangladesh Atomic Energy Commission is currently engaged in research on storage technology of dried fishes using nuclear radiation.
During 1996-97 about 427 m tons of dried fish valuing about Taka 79.2 million and about 561 m tons of salted fish and Chapa Shuntki valuing Taka 138.1 million were exported. However, the production of dried fish is gradually declining.
In Kishoreganj, Mymensingh, Narsingdi, Sylhet, Comilla and Narayanganj districts, Chapa Shuntki (pressed dried fish) is prepared through the fermentation of small-sized Punti fish. Kuliarchar and Lalpur of Kishoreganj and Madhabdi of Narsingdi produce large scale Chapa Shuntki. In the process of making Chapa Shuntki, scales and inner organs of fishes are removed and washed.
Then these are sun-dried for 12 to 14 days and the dried fishes are put in sack for about a month. In the meantime, the removed inner parts of the fishes are boiled and the oil so produced is applied inside a big sized earthen pot. The pot is then kept in the sun. After a month, the fishes are unpacked and washed in water. Eight or ten hours later, when the fishes become soft, those are put inside the earthen pot under pressure. The name Chapa has originated from this pressured filling process. When the pot is filled up, powdered dry fish is spread over the fishes and the mouth of the pot is covered airtight with jute sack or polythene. Fishes are fermented inside the pot in about three or four months and Chapa Shuntki is produced. This shuntki can be kept for about a year. [Nani Gopal Das and Md Mukbil Hossain]