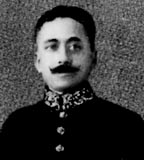 Faroqui, Nawab Sir KGM (1891-1984) a zamindar, politician and social worker. Full name Kazi Golam Mohiuddin Faroqui. He claimed himself to be a scion of Kazi Omar Shah Faroqui, One of the later descendents of Khalifa Hazrat Ormar Faroque (RA). Kazi Omar Shah Faroqui was a high-ranking army officer being posted in Bengal under Mughal emperor Farrukhsiyar. He had been given a grant of two parganas of Tippera district as 'Jaigir' (rent-Fee land).
Mohiuddin Faroqui was born in 1891 at Comilla town. His paternal home was at the village of Ratanpur under Nabibagar police station of brahmanbaria district. His father Kazi Riyajuddin Faruqui was a sub-registrar. Faroqui did not receive any institutional education in his boyhood. Three English house tutors namely Hajee Ahmed Bell, Mr. Cally and Mr. Eden taught him. He had read up to FA class in the Dhaka College.
Mohiuddin Faroqui had entered into politics in 1916. At first he was a neutralist in his political life and later on a follower of the Muslim League politics. He had been elected as a commissioner of the Comilla Municipality in 1917 and a member of the Tripura District Board. From 1925 to 1929 he had served as the Chairman of the Tripura District Board. Faroqui was also the President of the 'Tripura Samity' in Calcutta for a pretty long time. A weekly newspaper, The 'Hanafi' would publish from Calcutta under his editorship.
Faroqui had established Kazi Riazuddin High English School at Debidwar (Comilla) in the name of his father and an Aftabia Madrasa, in the name of his grand father Kazi Aftabuddin Ahmed Faroqui. By dint of his own effort and initiative a charitable dispensary, a post office, a police station and a Sub-Registrar's office were established at Debidwar. In the establishment of all these, he donated his own proprietary land. Faroqui had got a pond dugged at the village of Srimontapur for the use of its general inhabitants and did some philanthropic and humanitarian activities, such as reformation of some old ponds, establishment of roads, excavation of canals and setting up of some tube wells etc.
During the famine period of 1920, Faroqui had set up a relief camp for helping the famine-stricken distressed people of Tippera and he himself had bore the major portion of the expenses for this. The installation of the electricity supply organisation of Comilla town, setting up a water tank at Chowkbazar, reformation of Comilla prison, old hospital and Child health and Maternity Hospitalal of Comilla, all these were the outcome of his plans.
Mohiuddin Faroqui had been elected a member of the bengal legislative assembly from the Muslim electorate of the Tippera district. surendranath banerjea, the then senior minister of Bengal government had nominated him to the post of Chief whip. He had continued to that position up to 1929. A reception committee of 88 members had been formed in order to give a rousing reception for the British Prince Edward the 8th, while he came to visit Calcutta in the later days of 1921. Faroqui was enlisted as one of the important members of that committee.
Faroqui was appointed a Minister to the government of Bengal, in charge of Local self-government, Public health, Agriculture, Industry, Co-operative and Public works Departments. In 1931 he introduced the State-Aid to Industries Bill. He had taken steps to establish Co-operative and Mortgage Banks for the relief of the agricultural Indebtedness.
Faroqui was elected as a leader of the Bengal Legislative Council in 1934. In 1937 as an independent candidate he was elected to the Bengal Legislative Council. He donated money for the development activities of the different educational institutions including the Aligarh University, Health, Agriculture and Industry sectors. Faroqui had been one of the members of the then Dhaka University Court (now senate).
For contribution to the different fields of social life, the British government had conferred upon him the titles 'Khanbahadur' in 1924, 'Nawab' in 1932 and knight in 1936. He died in Calcutta on 4 April of 1984. [Muhammed Abdus Salam]