Gangopadhyaya, Jamini Prakash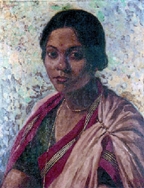 Gangopadhyaya, Jamini Prakash (d 1953) artist and sculptor. A nephew of Rabindranath Tagore, Jamini Prakash, in his early life, was a student of British painter CL Palmer. Later he joined the Calcutta Government Art School, where he came in contact with an eminent artist Pulin Kunda, and as his associate he became adept in the western style of painting.
In 1916, when Abanindranath Tagore left the Calcutta Art School, Jamini Prakash was appointed its Vice-Principal. Whenever Mr Percy Brown, the Principal, got any commission for oil painting he used to hand over the work to Jamini Prakash, who excelled in that media of painting. Jamini Prakash hardly worked in watercolour. Yet, due to his expertise in that media too, he used to instruct students who worked in watercolour. He also supervised the works of students who did experimental works in oil.
He excelled in portrait painting and rendered most of his paintings in red, red ochre and verdigris. For landscape paintings he used yellowish tone, sky blue, crimson and Prussian blue. He himself made different pigments for his paintings and discouraged his students to use artificial colors available in the market.
The paintings of Jamini Prakash pervade a sense of serenity. Like most of his contemporaries he used to select religious themes from Indian epics as his subject of paintings. Besides, he drew portraits and landscapes. Some of his noteworthy paintings are 'Raja Shudraker Sabhay xuka-xari', 'Buddher Griha tyag', 'xri Krsner Yugal Rupa', 'xarabane Kartik', 'Pujarini', 'Birahi Yaksa', 'Sandhya Aradhana'. Reproduction of some of his famous paintings, such as 'Dinmojur', 'Pujarini', 'Sandhya Aradhana' were published in Sahitya and Prabasi, two famous journals of his time. In the last years of his life he earned fame through an exquisite painting entitled 'Ulka', in which he applied thick coat of paints on country made coarse jute canvas.
An unparalleled artist of the early nineteenth century, Jamini Prakash excelled in portraiture and landscape. He drew numerous paintings of views of the Himalayas and the Kanchanjangha. He also painted scenes of fishing boats and fleet of merchants' boats with bloated sail floating on the estuary of rivers. Each of his paintings displayed novelty in composition and was mystic and colourful, reminiscent of European Impressionistic style, where fleeting light on play of color are noticeable.
The name and fame of Jamini Prakash spread so far and wide in the early and mid nineteenth century that many royal families and zamindars bought his paintings at high prices just as a symbol of aristocracy.
Students of Jamini Prakash Gangopadhaya - Jamini Roy, Atul Basu, Satish Sinha and Bashanta Ganguly - became renowned artists. [Najma Khan Majlish]