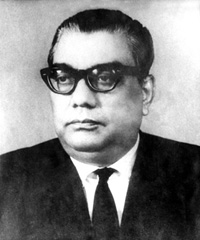 Ghani, M Osman (1912-1989) scientist, educationist and academic administrator; played a key role in the development of institutions and infrastructure of science and technology in the country. He was born in Gozadia village of Kishoreganj district. Osman Ghani received his early education at local institutions. He was the first Indian Muslim to have obtained an MSc in Biochemistry securing first class from University of Dhaka (1935) and PhD in Agricultural Chemistry from the University of London (1938).
Osman Ghani started his career as a Deputy Director of Agriculture of the Government of Bengal from 1939 to 1940.Then he joined Dhaka University as a Lecturer of soil science in 1940. In 1944, he was appointed as Special Officer-cum-Secretary of the government of Bengal in post-war reformation in agriculture. From 1945 to 1949 Dr Ghani was an Agricultural Chemist of the Government of Bengal and later Government of East Pakistan.
He returned to Dhaka University in 1949 and became Professor and Head of the Department of Soil Science. He was also the Head of Geology Department, Dhaka University from 23 April 1949 until 15 April 1956 with a break from 22 July 1950 to 16 July 1951.
He also served as Agricultural Development Commissioner from 1956 to 1959; Member, Food and Agriculture Commission from 1959 to 1960; and Director, North Regional Laboratories; Pakistan Council of Scientific and Industrial Research from 1960 to 1961.
Prof M Osman Ghani was the first Vice-Chancellor of the East Pakistan Agricultural University (later bangladesh agricultural university) from 1961 to 1963. He was also the Vice-Chancellor of the Dhaka University from 1963 to 1970. Dr Ghani was elected a member of the Board of Trustees of the International Rice Research Institute (IRRI), the Philippines in 1966 and made significant contribution towards establishing the bangladesh rice research institute (BRRI). He was elected a fellow of the Pakistan Academy of Sciences in 1954 and was elected the President of the bangladesh academy of sciences in 1976.
Ghani's area of research covered soil and fertiliser, plant and animal nutrition and allied fields, fractionation of soil phosphorus, phosphate fixation in soils and its mechanism, and availability of soil phosphorus and its determination and transformation under fertiliser treatments. He has a large number of publications to his credit in the national and international scientific journals. MO Ghani was awarded the title of 'Sitara-e-Quaid-e-Azam' in 1959 and 'Sitara-e-Pakistan' in 1964 by the government of Pakistan in appreciation of his outstanding achievements. He was honoured as DSc (Honoris Causea) from Northern Colorado University, USA in 1967. He was also elected a Member of the Bangladesh Parliament as an independent candidate in 1979. M Osman Ghani died on 21 July 1989. [Aminul Islam]