Ghoraghat Fort Mosque situated in the southeastern corner of the Ghoraghat Fort, which is located on the right side of the river karatoya in the southeastern part of the district of Dinajpur. Within the fort area were erected a number of religious and secular buildings, of which only a mosque in ruinous condition and a few scattered mounds have survived.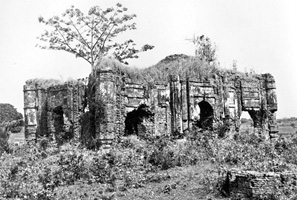 According to an inscription the mosque was built in 1740-41 AD by Zainul Abedin, the Mughal fauzdar of sarkar Ghoraghat. By now all the domes have crumbled, the corner towers are badly damaged, the western wall has completely collapsed, and the remaining parts are overgrown with small trees and plants. The interior of the mosque is now entirely covered with debris. In front of the mosque there was a plastered court, which is now covered by jungle. The northeastern and southeastern angles of the court were emphasised with massive hollow octagonal towers, the bases of which are still in situ. A little way to the south of the plastered court there is a large masonry well, where ablutions could be performed. Access to its interior was provided through three four-centred archways in the east and one each on the north and south sides. The central doorway, containing a multi-cusped arch in its outer face, depicts a rectangular projection towards the front.
The same sort of projection is also noticed in regard to the north and south archways. Corresponding to these three eastern archways the western wall must have been provided with three mihrabs, now hidden under debris.
The four octagonal corner towers now rise up to the horizontal cornice band. They may have been originally carried above the roof and topped by solid kiosks and cupolas; their remnants are now lying at the feet of the building. All these towers, now badly damaged in places, have beautiful kalasa bases.
Wide arches and the blocked arches supported the three domes, which covered the three bays of the mosque. Traces of the arches are still clearly visible in the east and side walls.
The outer surface of the east wall shows numerous shallow panels, now covered by vegetation. This is the only surviving decorative element of the building. In the late 1980s another mosque inside the fort was discovered by digging a mound about two hundred yards away to the west and very close to the western rampart wall. The mosque has been partly exposed. [MA Bari]