Gopalganj Twin Temple situated at a distance of about six km to the north of Dinajpur district head quarter in the village of Gopalganj. One of the two is a twenty-five ratna twelve-sided structure, while the other is a five ratna quadrangular temple. David J McCutchin mentioned 1743 as the date for one, and 1754 for the other, but he has not mentioned his source. A stone inscription, preserved in the Dinajpur Meseum, is believed to have been removed from one of the two temples. It records that the temple was constructed by Raja Ramnath (1722-1752) in 1676 Shaka era (1754 AD). Though it is not certain which of the two temples it refers to, but it seems clear from the character of the letters of the inscription that the temples were contemporaneous with the famous kantanagar temple (1772-1752).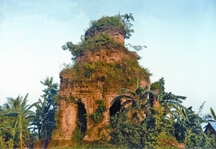 The twenty-five-ratna temple stands on a twelve-sided plinth, which is about 0.91m high. The twelve-sided temple rises in three receding stages; each arm is about 4.04m wide. There is a multi-cusped arched entrance in each side. Inside around the garbhagrha runs a 1.83m wide circunambulatory passage.
There are three entrances to the central room on the north, south and west sides. There are twelve shikharas on top of the first and the second stages, one in every corner. The third stage is crowned with a central shikhara. All the shikharas are octagonal and fluted having profuse terracotta ornamentation; the parapets are slightly curved.
The second temple, at a distance of about 50 yards from the first, is quadrangular; each side is about 12.5m in length, and stands on a 0.91m high plinth.
The temple rises in three stages; in the first stage there are three arched entrances in each side of the quadrangle, a 1.45m wide veranda in between the outer wall and the central square room (7.62m each side), having three entrances in each side. There are stairs on the north-eastern side of the garbhagrha which lead up to the second stage, which is similar to the first stage. The centre of the second stage is occupied by the square (each side 0.75m) main garbhagrha under the central shikhara. This and the other four shikharas, one on each side on top of the first stage, make it a pancharatna temple. The outer walls were once decorated with beautiful terracotta plaques, some remains of that are still visible.
Archaeologically important for their characteristic features, these two temples are in a highly dilapidated condition. The habitation that has grown in the grounds around the temples has utilised the spoils of the temples in building their houses, thereby causing serious damage to the structures. [Sania Sitara]