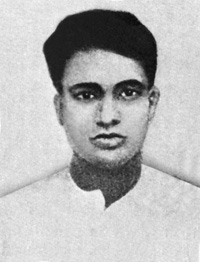 Gupta, Dinesh Chandra (1911-1931) revolutionary martyr, was born on 6 December 1911 in the village of Josholong in munshiganj. He was also known as Nashu. His father was Satishchandra Gupta.
Dinesh Chandra was a student of Dhaka College when he joined the Bengal Volunteers. He was soon promoted to the status of captain and helped organise the revolutionary organisation, first in Munshiganj district and then in Midnapore. This organisation planned and coordinated the assassination of three district magistrates of Midnapore.
On 8 December 1930, Dinesh Chandra and badal gupta, led by benoy krishna basu, conducted an assault on the writers' building in Calcutta and killed Inspector-General Simpson of the Prison Department and seriously wounded several European high officials. The three revolutionaries attempted to commit suicide so that they would not fall into the hands of the police. Benoy and Badal died, but Dinesh Chandra, who was critically injured, was taken to hospital and survived.
Dinesh Chandra Gupta was tried and sentenced to death by hanging for anti-government activities and murder. While awaiting execution, he wrote a number of letters from his prison cell eulogising the heroism of the revolutionaries and his belief in the greatness of self-sacrifice.
Dinesh Chandra was only 19 when he was hanged on 7 July 1931 at Alipur Jail. Later, Laldighi Maidan in Calcutta was dedicated to the memory of the three young revolutionaries: Benoy, Badal and Dinesh. The park is commonly known as BBD Bagh. [Sambaru Chandra Mohanta]