Gurdwara Nanak Shahi the main Sikh Gurdwara in Bangladesh, is situated on the campus of the university of dhaka near the arts faculty building. At one time it was known as 'Sujatpur Sikh Sangat', as it was situated in what was then Sujatpur mouza. It is believed to have been built on the initiative of a Sikh priest, Almast, sent by the sixth Sikh guru, Hargobind Singh (1595-1644), during the reign of Emperor jahangir.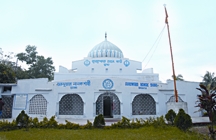 Some others believe it was built by the ninth Sikh guru, Teg Bahadur Singh (1621-75), and that from here communication was maintained with other Sikh gurdwaras in Bengal, Bihar and Orissa. In the past it had an entrance from the north, a ditch and burial ground on the south, and a pond on the west with concrete steps to the water.
Apart from the main temple there were a number of rooms for accommodating devotees. In all, there were nine rooms. On the north-east of the main temple there was an office and on the east the granthi (priest) had his residence.
From 1915 to 1947, Sri Chandrajyoti served as the granthi. After 1947 the gurdwara was neglected and almost abandoned. After the liberation of Bangladesh, however, it was repaired and revived. There is a management board, which includes local as well as foreign members, to run the affairs of the gurdwara.
The gurdwara is open to all, irrespective of race, religion, caste or sex. The place of prayer is known as 'darbar sahib' and has entrances on all sides, unlike other places of worship. At the northern end of the prayer hall a copy of the holy book of the Sikhs, the granth shahib, is kept on a wooden platform. A pair of wooden sandals, believed to belong to Guru Teg Bahadur Singh, has been preserved in a glass box just under the Granth Sahib.
The daily religious rites at the gurdwara include reading from the Granth Sahib and recital of prayers. Every Friday a weekly assembly is held from 11 am to 1 pm. The chief granthi reads from the Granth Sahib. kirtan and prayers continue for over two hours. The prayer service ends with the distribution of food. There are also arrangements to distribute food in the morning. Sikhs regard this as a way of enhancing understanding among people.
There are also about eight or nine smaller gurdwaras in different parts of Bangladesh. The Bangladesh Gurdwara Management Committee runs the affairs of these gurdwaras with financial support from the devotees, foreign visitors, donors and grants from the Bangladesh government. [Sambaru Chandra Mohanta]
See also sikhism.