Hafiz, Abdul (1907-1994) journalist and litterateur. Abdul Hafiz was born in December 1907 in Lakshmipur under Nabinagar upazila of Brahmanbaria district. Son of Munshi Aftabuddin, a Persian scholar, he belonged to a family that was keen in practising Islamic culture and learning. He started his education in the village maktab and graduated from the Dhaka University. A good sportsman he was in the University football team.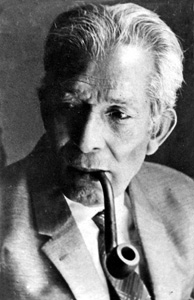 In December 1933 while a student of MA final year he joined the Calcutta Police as Sub-Inspector. On partition of India he opted for the then East Pakistan and served as Deputy Superintendent of the Intelligence Branch from 1950 to 1963 and in 1963 was promoted to the rank of Additional Superintendent of Police.
After voluntary retirement from police service he worked from 1966 to 1968 as Chief Editor of the Franklin Book Programme. When it closed down he became involved with the Ittefaq Group of Publications. He edited and compiled the works of Tofazzal Hossain (manik mian). From its inception in 1978 to March 1994 he was the Editor of Saptahik Robbar (Weekly Sunday).
Abdul Hafiz was especially interested in translation works and has translated about 20 books of Pearl S Buck, Erich Maria Remarque, Grazia Deledda, Sinclair Lewis, Upton Sinclair, Hafiz and others. His deep love for world literature created within him the urge to make it accessible in Bangali. A unique personality, he successfully combined a policeman's routine with that of a litterateur. His original published work is Ja Dekhechhi (reminiscences of a policeman). In recognition of his contributions he was awarded the Bangla Academy Award for translation in 1977.
In 1988 Abdul Hafiz established a Trust Fund named after him and his father, with the Asiatic Society of Bangladesh. The Trust aims at encouraging the practice of Persian as a secular cultural heritage of this region. Abdul Hafiz breathed his last on 30 October 1994. [Lala Rukh Selim]