Haider, Lt Colonel ATM (1942-1975) army officer, sector commander of the War of Liberation of Bangladesh. His full name is Abu Taher Mohammad Haider. He was born on 12 January 1942 at Bhabanipur in Kolkata. His father Mohammad Israil was a police officer and later a lawyer in the Kisoreganj bar. His mother was Hakimun Nesa.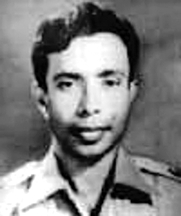 ATM Haider had his early education at Binapani Primary School in Pabna. He passed matriculation in 1958 from Ramananda Government High School and IA in 1961 from Gurudayal College of Kisoreganj. He obtained BSc degree from Lahore Islamia College in 1965.
On completion of his MSc Part I in 1966 in Statistics from the Punjab University he joined as commissioned officer in Pakistan army. He took his training from Pakistan military academy of Kakul and served as an officer in artillery forces. Afterwards he received guerrilla training on Special Service Group (SSG) in Cherat. Then he was posted at Multan Cantonment and continued there till 1969. On 9 September 1970, ATM Haider was made a captain and was posted at third battalion in Comilla Cantonment. On January 1971, he was transferred to Dhaka, and later was transferred back to Comilla Cantonment.
On 27 March 1971, Haider left Comilla Cantonment and met some officers of the fourth East Bengal Regiment in Brahmanbaria. From there he went to Teliapara and few days later came back to Bangladesh with some soldiers. He blew up the bridge of Mymensing-Kisoreganj highway and the Musalli Bridge by explosive. He then joined as second in command under sector commander Khaled Mosharraf in Melaghar. In Melaghar, Captain Haider formed a student company and was in charge of the training of students on commando and explosive. Most of the guerrilla attack of the sector took place under the direction of Haider.'
On 7 October 1971, Captain Haider joined as commanding officer while K-force was formed under the leadership of Khaled Mosharraf. He attended the Racecourse Maidan during the surrender of Pakistan Army on 16 December 1971.
In 1972, ATM Haider joined as commander after the formation of 13 East Bengal Regiment and was promoted as Major. In 1974 he was promoted to Lt Colonel and joined as commanding officer in Chittagong Cantonment. He was shifted to Ruma Cantonment on 21 October 1975.
Following the assassination of Bangabandhu Sheikh Mujibur Rahman, unrest followed in the army cantonment in Dhaka. Haider happened to be in Dhaka on 3 November to attend some of his family problems and was involved in the cue led by Khaled Mosharraf. Lt Colonel ATM Haider was assassinated on 7 November 1975 with Khaled Mosharraf in Dhaka Cantonment. His dead body was recovered on 11 November and was buried at his village in Kishoreganj.
In recognition of his heroic contribution to the War of Liberation ATM Haider was honoured with the state insignia of 'Bir Uttam' by the government of Bangladesh on 15 December 1973. [Lilyma Ahmed]