Hakaluki Haor is situated in the eastern part of Bangladesh adjacent to the Assam-Bangladesh border. 5 upzillas comprise this haor's total area. 3 of them Kulaura, Juri and Baralekha are under Moulvibazar district. While the other 2 upzillas Golapganj and Fenchuganj are under Sylhet division. It covers a large surface area of about 181.15 km2. Around 40% of this land falls in the territory of Baralekha upzilla. This huge land coverage makes it Bangladesh's largest haor and one of Asia's larger wetlands. There are more than 238 small, medium and large interconnecting beels, some of which are perennial and others seasonal. During the dry season, approximately 4,4000 ha are is covered by the beel, but with the onset of the rains in the summer, the entire area floods to about four and half times of this size (18,383 ha) and remains under water for up to five months. During this period, all the beels are united as one large lake, or haor, making Hakaluki Haor the largest freshwater wetland in Bangladesh. The haor is mainly fed by the Juri/ Kantinala, Sonai/ Bordol, Damai. Fanai, and Kuiachara Rivers, out of which the Bordol/ Sonai, and Juuri/ Kantinala Rivers are originated in India.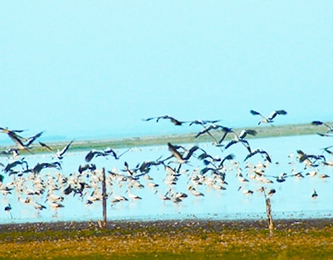 This haor basin supports numerous wetland habitats. Different types of plants are found here. Various known- unknown plants and rare aquatics adorn this area with shades of green. The abundance of trees and herbs is surprising. The Hakaluki Haor supports a wide variety of agricultural and horticultural crops and fast growing introduced timber species. A significant number of medicinal plants is also found in the Haor. It provides sanctuary to many species of animals and birds including some very rare kinds – already declared as threatened, vulnerable, endangered and critically endangered species.
A total of 558 species of animal and birds have been identified here. Amphibians, reptiles, aves and mammals all of them enrich the biodiversity of this haor region. Among these animals are the freshwater Turtle and Tortoises, Otters, Capped Langur, Pallas's Fish Eagle, dolphin, snakes and many more. Besides trees and animals Hakaluki haor has something more special for the bird lovers. Presence of birds of many different species adds life to this haor. 417 species of aves have been spotted here among which 26 are totally threatened, 2 are vulnerable, and 10 are endangered and 14 critically endangered species. Besides local birds many migratory birds visit this area in winter. The numbers of migratory birds are increasing every year. As a result Hakaluki haor has become a significant site for bird watching. Wide variety of waterfowl seen here is one of the main attractions.
In the recent time has become a fast-degraded landscape and facing increased pressure and threats. Such rapid degradation of the wetland ecology is causing devastating consequences on the community people living in, around and downstream of the Hakaluki Haor, who, for generations, were dependent for their livelihoods upon vital functions, services and benefits provided by this wetland. About 200,000 people live around the haor. All of them, more or less, are dependent on the resources of the haor for their livelihoods. As the haor floods annually, settlements are clustered along its slightly raised fringes. On ground of such threats and rapid degradation of the resources and in recognition of the urgent need to protect the unique ecology and biodiversity of the haor, Government of Bangladesh has declared Hakaluki Haor as an 'Ecologically Critical Area' (ECA) under the provision of the Bangladesh Environment Conservation Act (BECA), in 1999. (CNRS, 2002). [Nixon Talukder and Sanzida Murshed]