Halishahar Thana (Chittagong metropolitan) area 11.63 sq km, located in between 22°19' and 22°20' north latitudes and in between 91°45' and 91°48' east longitudes. It is bounded by pahartali thana on the north, bandar thana on the south, double mooring thana on the east, bay of bengal on the west.
Population 146989; male 78336, female, 68653; Muslim 13647, Hindu 8425, Buddhist 215, Christian 288 and others 41.
Administration Halishahar thana was established in 2000 comprising parts of Pahartali and Double Mooring thanas.
Thana
Ward and Union
Mahalla and Mouza
Population
Density (per sq km)
Literacy rate (%)
Urban
Rural
Urban
Rural
2+2 (part)
27
146989
-
12639
61.10
-
Ward
Ward
Area (sq km)
Population
Literacy rate (%)
Male
Female
Ward No. 11 (part)
1.99
11597
10137
65.10
Ward No. 24 (part)
2.59
21663
18955
66.60
Ward No. 25
1.81
23883
20962
60
Ward No. 26
5.24
21193
18599
60.70
Source  Bangladesh Population Census 2001, Bangladesh Bureau of Statistics.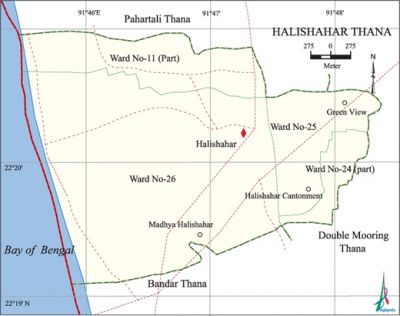 Marks of War of Liberation Mass killing site 1 (Abadpara Bus Station).
Literacy and educational institutions Average literacy 63.10%; male 67.30%, female 58.91%. Noted educational institutions: Home Economics College, SOS Trade School, Physical Training College.
Cultural organisations Community Centre 7.
Noted establishments Border Guard Bangladesh, BGB (former BDR) Sector Head Quarter, Artillery Training Centre and School, Chittagong District Police Line, SOS Shishu Palli and Bihari Camp.
Amusement centre Sea beach adjacent to Ful Chowdhury Para.
Main sources of income Agriculture 2.32%, non-agricultural labour 2.58%, industry 2.80%, commerce 19.22%, transport and communication 14.27%, construction 5.36%, service 34.61%, religious service 0.30%, rent and remittance 4.69% and' others 13.85%.
Manufactories Garments industry, lime factory, fish processing industry.
Noted hats and bazars Barapool Bazar, Chhotapool Bazar, Anandipur Bazar, Phaillathali Bazar.
Access to electricity All the wards of the thana are under electricity network; however, 91.26% dwelling households have access to electricity.
Sources of drinking water Tube-well 55.63%, pond 1.37%, tap 41.15% and others 1.85%.
Sanitation 78.18% of dwelling households use sanitary latrines and 20.01% of dwelling households use non-sanitary latrines; 1.81% of households do not have latrines facilities.
Noted health centres Agrabad Access Road General Hospital, DO Point Hospital, Raj Dental Clinic, Royal Eye Hospital are notable.
NGO activities brac, asa. [Md. Abdul Baten]
References Bangladesh Population Census 2001, Bangladesh Bureau of Statistics.