Hannan, MA (1930-1974) politician. He was born on 10 February 1930 at village Khaspur in Tehat thana of West Bengal. His father Maulana Muhammad Muhibur Rahman was involved in Congress politics and later in muslim league politics. After the partition of India, Muhibur Rahman along with his family migrated to East Bengal and settled at Amjhupi in Meherpur subdivision of Kushtia district.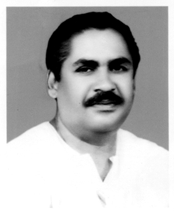 MA Hannan passed Matriculation examination in 1949 from Dariapur High School in Meherpur and IA in 1951 from Kushtia College. While a student of BA class in Jagannath College he took part in the language movement (1952). Later he got himself admitted into the night shift of City College in Chittagong. Simultaneously he continued to serve as an employee of the Chartered Bank. Later he served as the Manager of Alfa Insurance Company.MA Hannan joined awami league and was elected office-secretary of Chittagong district unit of Awami League in 1964. He took part in the six-point programme of Bangabandhu sheikh mujibur rahman in 1966 and in movement against the agartala conspiracy case in 1968.
In 1968, he was elected the organizing secretary of Chittagong district unit of Awami League, acting general secretary in 1970 and later as general secretary of the unit. During the Noncooperation Movement in 1971, he mobilized the students, labourers and people and created resistance on 24 March against the release of arms by the Pakistan army from the streamer 'Swat' anchored at Chittagong port. He read out and transmitted the Proclamation of Independence by Bangabandhu Sheikh Mujibur Rahman from Kalurghat swadhin bangla betar kendra. Later he went to Agartala and took active part in the formation of Harina Youth Camp.
MA Hannan participated in the convention of International Labour Organisation (ILO Convention) in 1973. He was the vice-president of the central committee of Bangladesh Jatiya Sramik League, president of Bangladesh Rail Sramik League and the president of Chattagram Jatiya Sramik League. MA Hannan was injured in a road accident at Chauddagram on 11 June 1974 and died in Feni Hospital on the following day. [Mohammad Mostafa Kamal]