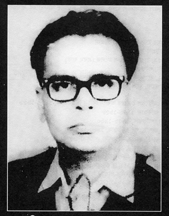 Haq, Major AKM Asadul (1928-1971) physician, army officer and martyr in the War of Liberation. He was born on 1 December 1928 at village Santoshpur in Sandwip upazila of Chittagong District. His father was Moulvi Syed Ahmad. He passed matriculation in 1944 from Kathghar High School in Sandwip and I.Sc in 1946 from Chittagong College. He obtained MBBS degree in 1952 from Dhaka Medical College, FCPS from Quetta in Pakistan and FRCS in 1962 from Royal College of Physicians and Surgeons, England.
Asadul Haq joined Pakistan Army Medical Corps in 1953. Between 1956 and 1970 he served as a physician in the Combined Military Hospital in Quetta, Abotabad, Jessore, Sargoda, Multan and Azad Kashmir. He joined as AFMSD Commanding Officer in Chittagong cantonment in 1970 and worked there till his death.
During his internship as a doctor in Dhaka Medical College he became a victim of police harassment for giving medical treatment to the injured persons during the language movement. Asadul Haq tried to resist the Pak army on the night of 25 March 1971 when they pounced on the Bangali soldiers in Chittagong cantonment.
The resistance being failed, Asadul Haq and his family were taken into custody along with other colleagues. They were kept confined in a ward of CMH. Asadul Haq along with some army officers were shot dead on 17 April 1971. [Bayzid Khurshid Reaz]