Haq, Major Nazmul (1938-1971) army officer, sector commander in the War of Liberation. He was born on 1 August 1938 at village Amirabad in Lohagora thana of Chittagong district. His father Hafez Ahmed was a high ranking government officer and his mother was Jainab Begum.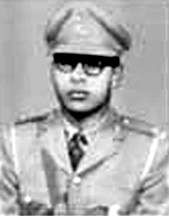 Nazmul Haq passed Matriculation examination from Iswar Pathsala of Comilla, I.Sc examination from Jagannath College of Dhaka, and got himself admitted in Ahsanullah Engineering College. While a second year student in Engineering College Nazmul Haq joined the Pakistan Army. On completion of his training he was commissioned in the artillery of 43 Light Anti-aircraft Regiment on 14 October 1962. He had heroic role in the Indo-Pak War of 1965. During his service he was posted in different artillery units, army headquarters and in intelligence department.
Nazmul Haq took over charge as wing commander of 7-Wing of the EPR at Naogaon in Rajshahi on 18 March 1971. The soldiers under his lead hoisted the flag of independent Bangladesh on 26 March at Naogaon. It was virtually under his lead that the EPR and the people jointly created resistance against the Pakistan army from 26 March to 18 April in Rajshahi, Bogra, Naogaon and Chapai Nawabganj areas. The Bangladesh government in exile appointed Major Nazmul Haq as the regional commander of the Rajshahi-Pabna region. With the formation of sectors in July he was appointed as commander of Sector-7.
An interview of Nazmul Haq under the head 'Haq's Rebellion' was published in the Newsweek on 10 May 1971. With the circulation of the interview the War of Liberation of Bangladesh got wider publicity. Nazmul Haq along with the commanders of sub sectors of Sector 7 launched successful operations in areas like Sona Masjid, Kansat, Shibganj, Argararhat and Chapai Nawabganj.
Major Nazmul Haq attended a conference of the army officers of India and Bangladesh held on 26 September at the headquarters of 33 Corp of Indian army in Shiliguri. He placed before the conference a detailed account of the success in operations, the future plan and the problems in Sector 7. On his way back to the sector headquarters, he was the victim to a jeep accident. He was laid to rest beside the historic Sona Masjid.
In his memory, Shaheed Nazmul Haq Primary School was established at his native village in 1987. The Road No. 7 of Gulshan in Dhaka has been renamed after him. [Kazi Sajjad Ali Zahir]