Haque, Jekrul (1914-1971) physician, politician, martyr intellectual. He was born on 1 September 1914 at Syedpur in Nilphamari district. His father was Dr. Sheikh Zearatullah Ahmad and his mother was Khamiunnesa Chowdhurani. Jekrul Haque passed matriculation examination from Syedpur H.E School in 1933 and LMF from Calcutta Campbell Medical School in 1939.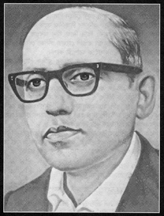 Jekrul Haque began his career as an honorary medical officer in Hazarihat Charitable Dispensary under Darwary Hospital of Syedpur. Later he served as honorary medical officer in Dangarhat Shah Abdul Gafur Charitable Dispensary. Later he took to medical profession at Zearatullah Medical Hall established by his father.
While studying at Campbell Medical School in Kolkata he came into contact with AK Fazlul Haq and Huseyn Shaheed Suhrawardy. Inspired by them, he participated in active politics after the partition of India. He was associated with the All India Muslim Students Federation from 1930 to 1940. Later he joined the Muslim League and was the secretary and then president of thana unit of the party. He was also the vice president of district unit of Muslim League. He was elected a member of the Legislative Assembly in 1954 as an independent candidate by defeating the Mohajer candidate of the United Front.
He was elected a member of the Provincial Assembly in 1970 as a nominee of Awami League. He organized the movement for autonomy in the 1960s and the Non-cooperation Movement of 1971 at Syedpur.
Apart from providing Medicare, Jekrul Haque took active part in activities for fostering education and socio-economic development in his locality. He was the president of a cultural organisation named Shilpa Sahitya Sangsad in Syedpur. He was a member of the managing committee of Syedpur H.E School and the managing director of the local commercial bank. He had important role in the establishment of Syedpur College, 50-bed hospital and the Hazarihat post office. He was the chairman of Syedpur Municipality in 1958.
Jekrul Haque gave shelter to a number of Bangali activists at his residence during the clash between the Bangali and the non-Bangali citizens of Syedpur on the issue of hoisting the Pakistani flag on 23 March 1971. The Pakistani soldiers abducted him from his house on the dreadful night of 25 March. He was kept confined at Rangpur cantonment along with other leaders till 12 April and was a victim of inhuman torture. All the detainees were shot dead near the Rangpur cantonment on that very day.
The Postal Department of the Government of Bangladesh issued commemorative postal stamp in the name of Jekrul Haque on the Martyred Intellectual Day on 14 December 1996. The Government of Bangladesh awarded the Independence Award to Dr. Jekrul Haque in 2001 (posthumously). [Tania Rubaya]