Hardinge, Lord Charles (1858-1944) Governor General and Viceroy of India from 1910 to 1916. Charles Hardinge (later Baron of Penshurst), a grandson of Lord hardinge (1844-1848), entered the diplomatic service of England in 1880 and was appointed ambassador to Russia in 1904 and permanent under-secretary for foreign affairs in 1906.'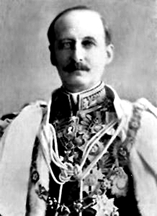 During Hardinge's administration King George V and the Queen Mary visited India in 1911 and their coronation ceremony was gorgeously proclaimed at the Delhi Durbar. On this occasion three important announcements were made: the annulment of the partition of bengal, making Bengal a Governor's province and the transfer of the capital of British India from Calcutta to Delhi.
The early days of Hardinge's administration in India was marked by political unrest and terrorist activities aimed at undoing the partition of Bengal. He himself was wounded by a bomb blast during his state entry into Delhi in December 1912. He remained calm and never embarked on revengeful actions. Instead his tenure of office witnessed a significant improvement in relations between the government and the nationalist leaders. Hardinge's criticism of the Anti India Immigration Act passed by the South African government and his sympathy for the passive resistance movement started by Mahatma Gandhi earned for him popular support. The hardinge bridge across the Padma near Ishwardi in Pabna district (opened in 1917) was named after him.
The most significant event during the administration of Hardinge was the outbreak of the First World War and the Indian participation in it. Hardinge very prudently sent out almost all European soldiers available in India and a large number of Indian soldiers to fight for the British cause in different parts of the world. This made him popular in his own country as his wartime activities were thought to have been instrumental in obtaining Indian support to the British war efforts.
On his return to England in 1916 he was again made permanent under-secretary for foreign affairs and subsequently became ambassador to Paris and finally retired in 1922. He died in August 1944. His memoirs, My Indian Years, 1910-1916, was published in 1948. [KM Mohsin]