Haripur Upazila (thakurgaon district) area 201.06 sq km, located in between 25°47' and 26°00' north latitudes and in between 88°05' and 88°15' east longitudes. It is bounded by west bengal state of India and ranisankail upazila on the north, West Bengal state of India on the south, Ranisankail upazila on the east, West Bengal state of India on the west.
Population Total 128289; male 65826, female 62463; Muslim 116150, Hindu 11597, Buddhist 160 and others 382. Indigenous communities such as santal, oraon, Munda and Musahar belong to this upazila.
Water bodies Main rivers: nagar, Kulik; Gargaria Beel is notable.
Administration Haripur Thana was formed in 1914 and it was turned into an upazila in 1983.
Upazila
Municipality
Union
Mouza
Village
Population
Density (per sq km)
Literacy rate (%)
Urban
Rural
Urban
Rural

-

6

75

72

6016

122273

638

39.1

33.8
Upazila Town

Area
(sq km)

Mouza

Population

Density
(per sq km)

Literacy rate
(%)

4.11

2

6016

1464

39.1
Union
Name of union and GO code
Area (acre)
Population
Literacy rate (%)
Male
Female

Amgaon 13

8565

12257

11663

29.31

Gedura 67

9269

12467

11952

30.31

Dangipara 54

7448

11001

10411

36.86

Bakua 27

9141

10051

9621

28.47

Bhaturia 40

7631

9175

8679

42.27

Haripur 81

7632

10875

10137

38.69
Source Bangladesh Population Census 2001,Bangladesh Bureau of Statistics.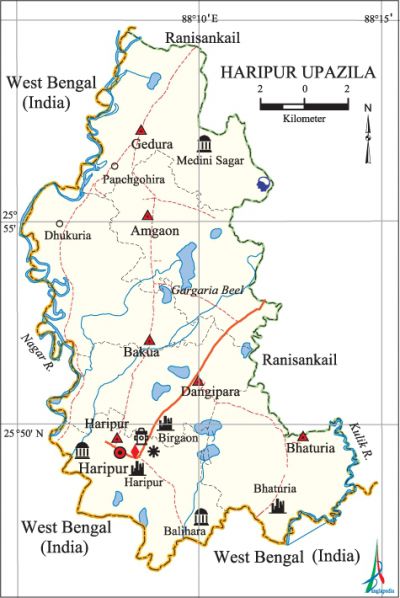 Archaeological heritage and relics Medini Sagar Jami Mosque, Gedura Jami Mosque, Bhaturiar Garh, Bir Garh, Bhabanipur Garh (Bhaturia), Zamindar Bari at Haripur, tomb of Shah Makhdum Jalal (R) at Bahrampur.
History of the War of Liberation Haripur was under secror 7 during the war of liberation. During this time encounters between the freedom fighters and the Pak army were held at Kamar Pukur, Bhaturia, Dangipara and Gedura of the upazila. In these encounters 20 freedom fighters including Md. Ismail and Dr. Aziz were killed and 23 were wounded. Haripur upazila was liberated on 1 December.
Religious institutions Mosque 331, temple 23, church 2, tomb 5. Noted religious institutions: Haripur Jami Mosque, Balihara Jami Mosque, Jadurani Haramai Jami Mosque, Hagri Mosque (Khalra), Medni Sagar Shahi Mosque.
Literacy rate and educational institutions Average literacy 34.1%; male 40.3%, female 27.5%. Educational institutions: college 20, secondary school 55, primary school 84, madrasa 20. Noted educational institutions: Muslem Uddin College (1984), Haripur Bilateral High School (1936), Jadurani High School (1965), Kanthaldangi College (1967), Birgarh Government Model Primary School (1920), Minapur Government Primary School (1923), Kanthaldangi Government Primary School (1930), Haripur Government Primary School (1953), Birgarh Darul Ulum Sharifia Madrasa.
Newspapers and periodicals Angikar (irregular).
Cultural organisations Library 1, club 30, women's organisation 96, cinema hall 1, playground 10.
Main sources of income Agriculture 83.03%, non-agricultural labourer 3.08%, commerce 6.09%, service 2.73%, construction 0.59%, religious service 0.08%, rent and remittance 0.05% and others 4.35%.
Ownership of agricultural land Landowner 58.12%, landless 41.88%; agricultural landowner: urban 49.16% and rural 58.57%.'
Main crops Paddy, wheat, corn, cabbage, potato, pulse, brinjal, tomato, vegetables.
Extinct or nearly extinct crops Aush paddy, kaun, khesari, gram, mash' kalai, arhar.
Main fruits Jackfruit, betel nut, mango, litchi, banana, papaya, water-melon, guava.
Fisheries, dairies and poultries Dairy 8, poultry 48, hatchery 1.
Communication facilities Pucca road 43.80 km, mud road 500 km.
Extinct or nearly extinct traditional transport Palanquin, horse carriage, bullock cart.
Noted manufactories Ice factory 1, oil mill 3, husking mill 85, saw mill 3, engineering workshop 2, welding factory 8.
Cottage industries Goldsmith 4, blacksmith 22, potteries 10, embroidery 35, bamboo work 20,' wood work 30,' mat work 200.
Hats, bazars and fairs Hats and bazars are 15, fairs 5, most noted of which are Jadurani Hat, Kaliganj Hat, Kanthaldangi Hat, Dhirganj Hat, Chawrangi Hat, Mashagaon Hat and Raghab Mela.
Main exports Paddy, rice, wheat, cabbage, brinjal, tomato, water-melon, mango, litchi, mat.
Access to electricity All the unions of the upazila are under rural electrification net-work. However 7.38% of the dwelling households have access to electricity.
Sources of drinking water Tube-well 96.61%, tap 0.24%, pond 0.07% and others 3.08%.
Sanitation 4.20% (rural 3.30% and urban 12.68%) of dwelling households of the upazila use sanitary latrines and 29.22% (rural 27.71% and urban 43.59%) of dwelling households use non-sanitary latrines; 66.58% of households do not have latrine facilities.
Health centres Upazila health complex 1, satellite clinic 1.
NGO activities brac, rdrs, ESDO, proshika. [Md. Abdul Gaffar]
References Bangladesh Population Census 2001, Bangladesh Bureau of Statistics; Cultural survey report of Haripur Upazila 2007.