Hastings, Lord (1754-1826) Governor General of India from 1813-1823. Francis Rawdon Hastings was born on 9 December 1754 and was educated at Harrow and University College, Oxford. He entered the army in 1771, joined wars in America, was promoted to the rank of Adjutant General in 1778 and later succeeded his father as Earl of Moira. He came out to India as Governor General in his sixtieth year. He was also the Commander-in-Chief of the Army. It is said about him that an ordinary soldier became a strategist, an ex-courtier became a statesman, a gambler became a careful steward of the company's officers and a man of fashion was concerned about the welfare of the people. He was practically forced to take part in Indian power politics and completed the work begun by wellesley.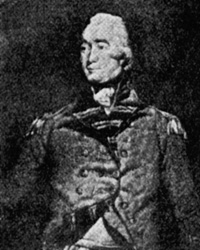 On his arrival in India Hastings complained that his predecessors had left him with a number of quarrels, each demanding the 'decision of arms'. The serious ones were the Gurkha rising and the Pindari threat. Soon after his arrival he had to fight the Gurkhas, who had started raiding the northern regions of the Gangetic plains. They had fought traditional battles for two years but could not make any substantial gains against the British troops and ultimately accepted the treaty of Sagauli in March 1816.
By this treaty the Nepalese surrendered Kumaon and Gahrwal and the hill stations of Simla and its neighbourhood to the British and established friendly relations with them that lasted throughout the British period.
Lord Hastings then sent a large army against the Pindaris in Central India and subdued them after several encounters. Amir Khan, the prominent Pindari leader, became the nawab of Tonk and several other leaders settled in different regions.
After settling with the Pindaris Hastings turned to the Marathas who were anxious to recover their independent position. The English forces subdued the Peshwa, the ruler of Nagpur and the Raja of Indore, one after another, and the Marathas had to accept the Subsidiary Alliance and the consolidation of British power over the whole of India to the east of Sutlej and Sind was completed. In 1819 Hastings acquired the island of Singapore, a strategically important position in southeast Asia. Lord Hastings also stopped sending formal gifts to the titular Mughal emperor-this symbolised the British paramountcy in India.
Although Hastings had been mostly engaged in war during his tenure in India he also attended to civil affairs. Among the public welfare works that he undertook were building of roads and bridges and digging of canals. He encouraged education among the Indians, founded the hindu college at Calcutta in 1817 and encouraged the missionaries to set up a printing press and a college at serampore. He increased judicial courts and encouraged appointment of Indian judges. Lord Hastings resigned in 1823 and returned to England. He died in 1826. [KM Mohsin]