Hazaribagh Thana (Dhaka metropolitan) area 3.94 sq km, located in between 23'43' and 23°44' north latitudes and in between 90°20' and 90°22'east longitudes. It is bounded by mohammadpur thana on the north, kamrangirchar thana on the south, Mohammadpur, dhanmondi, new market and lalbagh thanas on the east, keraniganj upazila on the west.
Population Total 103482; male 57044, female 46438, Muslim 97508, Hindu 5809, Buddhist 95, Christian 59 and others 11.
Water bodies Main river: buriganga.
Administration Hazaribagh Thana was established in 1998 comprising parts of Mohammadpur, Dhanmondi' and Lalbagh thanas.
Thana
Ward and Union
Mahalla and Mouza
Population
Density (per sq km)
Literacy rate (%)
Urban
Rural
Urban
Rural
1+2 (Part)
24
103482
-
26265
64.40
-
Ward
Ward
Area (sq km)
Population
Literacy rate (%)
Male
Female
Ward No. 46 (Part)
0.57
4373
3254
62.90
Ward No. 48 (Part)
1.94
14104
11190
64.97
Ward No. 58
1.43
38567
31994
65.35
Source  Bangladesh Population Census 2001, Bangladesh Bureau of Statistics.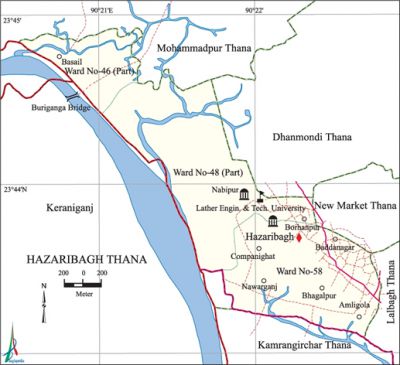 Religious institutions Mosque 21, temple 5.
Literacy rate and educational institutions Average literacy 64.40%; male 68.42%, female 59.06%. Educational institutions: Secondary school 6, primary school 10, madrasa 3. Noted educational institutions: Leather Engineering and Technology University, Shikdar Girls' School and College, Saleha School and College, Hazaribagh Girls' High School, USEF High School.
Cultural Organisation 'Library, club, community centre, gymnasium, playground.
Amusement centre' Hazaribagh Children's Park.
Main sources of income Agriculture 0.96%, non-agricultural labourer 1.20%, industry 2.77%, commerce 26.73%, transport and communication 9.00%, construction 3.20%, religious service 0.11%, employment 36.91%, rent and remittance 3.60% and' others 15.52.
Ownership of agricultural land Landowner 42%, landless 58%.
Main crops Paddy, chilli, vegetables.
Extinct or nearly extinct crops Jute, Sugarcane, pulse.
Main fruits Mango, jackfruit, coconut, guava, papaya.
Communication facilities Total road 23.61 km.
Extinct or nearly extinct traditional transport Palanquin, horse carriage, bullock cart.
Noted manufactories Garments industry, leather industry, stationary industry, ice cream factory.
Cottage industries Weaving, handicraft.
Bazars and shopping complex 'Market 8, kancha bazar 11.
Main exports Ready made cloth, handicraft, leather.
Access to electricity All the wards of the thana are under electrification net-work. However 96.92% of the dwelling households have access to electricity.
Sources of drinking water Tube-well 17.61%, pond 0.05%, tap 83.73%, and others 1.24%.
Sanitation 91.23% of dwelling households of the thana use sanitary latrines and 8.25%' of dwelling houses use non-sanitary latrines; 0.52% of households do not have latrine facilities.
Health centres Urban Primary Health Care.
NGO activities Operationally important NGOs are brac, asa, nijera kari, IRC. [Md Tuhin Molla]
References Bangladesh Population Census 2001, Bangladesh Bureau of Statistics.'