Hazra, Hashimoy (1946-1971) physician, martyr intellectual. Hashimoy Hazra was born on 23 January 1946 in Dhaka. His father Ananta Madhav Hazra was the official physician of Dhakeswari Cotton Mills at Narayanganj. Hashimoy passed SSC examination in 1962 from Dhakeswari Mills High School, ISc in 1964 from Tolaram College, Narayanganj, and obtained MBBS degree in 1970 from Dhaka Medical College.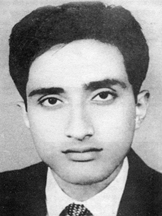 On completion of his MBBS, Hashimoy joined internship course in Dhaka Medical College Hospital in 1970. During the 1964 communal riot, Hashimoy's mother along with her four minor children migrated to India, but Hashimoy refused to leave the motherland.
During the mass upsurge of 1969, the Pakistan army indiscriminately fired on the workers of Adamjee Jute Mills killing a number of workers and wounding many others. Curfew was imposed in the area. Hashimoy, on receipt of the news, instantly rushed to the spot on an ambulance, stayed there for three days and gave treatment to the injured. After the devastating cyclone at Demra in 1969 he along with some of his friends rushed to the affected area, conducted rescue work and gave medical treatment to the affected people.
During the devastating cyclone in coastal areas in November 1970, Hashimoy worked there for two weeks giving medical service to the victims. Hashimoy took active part in the mass upsurge in 1969 and during the non-cooperation movement in March 1971. With the beginning of War of Liberation, Hashimoy planned to cross the border and join the war. By this time he made a liaison with a group of freedom fighters operating in areas around Dhaka.
On 2 May 1971 at 2 pm, Hashimoy left his residence at Gopibagh on a vespa for the International Hostel to meet some of his friends there. Curfew was imposed in the city at nightfall. But Hashimoy did not return home till the following day. He was taken away from the road in front of the then PG Hospital by the Pakistan army on his way back home. He was severely tortured and killed. The Posted Department of the Government of Bangladesh issued a commemorative postal stamp for Hashimoy Hazra on the Martyred Intellectual Day on 14 December 1997. [Muazzam Hussain Khan]