Hazra, Matangini (1870-1942) a famous Gandhian leader and a humanitarian. Matangini Hazra (Matangini Hazra) was born at a village named Hogla under Tamluk Thana of Midnapore in West Bengal. Daughter of a poor peasant, she had no access to education at her father's house. Given in marriage at an early age, Matangini became widowed at eighteen without having any children. She played an active role in the struggle for independence from colonial rule and followed Mahatma Gandhi's creed of non-violence.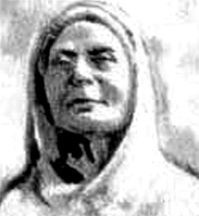 In 1932, Matangini participated in Gandhi's civil disobedience movement (Salt Satyagraha), manufactured salt at Alinan salt centre and was arrested for violating the salt act. After her arrest she was made to walk a long distance as punishment. She also participated in the 'Chowkidari Tax Bandha' (abolition of chowkidari tax) movement and while marching towards the court building chanting slogan to protest against the illegal constitution of a court by the governor to punish those who participated in the movement, Matangini was arrested again. She was sentenced to six months imprisonment and sent to Baharampur jail.
After her release Matangini got actively involved with the activities of the indian national congress. She took to spinning thread and Khaddar (coarse cloth) like a true follower of Gandhi. In 1933 she joined the 'Mahakuma Congress Conference' at serampore where police resorted to baton charge on the protesters. Always engaged in humanitarian causes, she worked among affected men, women and children when small pox in epidemic form broke out in the region. People lovingly called her 'Gandhi Buri' (old lady Gandhi).
During the quit india movement, the people of Midnapore planned an attack to capture the Thana, court and other government offices. Matangini, who was then 72 years old, led the procession. The police opened fire. A bullet hit her arm. Undaunted she went on appealing to the police not to shoot at their own brethren. Another bullet pierced her forehead. She fell down dead, a symbol of the anti-colonial movement, holding the flag of freedom in her hand. [Sonia Amin]