Hizla Upazila (barisal district) area 515.36 sq km, located in between 22°50' and 23°05' north latitudes and in between 90°25' and 90°43' east longitudes. It is bounded by gosairhat and haimchar upazilas on the north, mehendiganj upazila on the south, raipur upazila on the east, muladi upazila on the west.
Population Total 174508; male 89918, female 84590; Muslim 170165, Hindu 4335 and others 8.
Water bodies Main rivers: meghna, Jayanti, Naiyabhanga and Azimpur.
Administration Hizla Thana was established in 1911 and it was turned into an upazila in 1983.
Upazila
Municipality
Union
Mouza
Village
Population
Density (per sq km)
Literacy rate (%)
Urban
Rural
Urban
Rural

-

7

139

112

13406

161102

339

44.6

37.7
Upazila Town

Area
(sq km)

Mouza

Population

Density
(per sq km)

Literacy rate (%)

8.26

3

13406

1623

44.64
Union
Name of union and GO code
Area (acre)
Population
Literacy rate (%)
Male
Female

Guabaria 54

7899

16085

16265

47.35

Kuchaipatti 85

7131

10000

9267

20.19

Dhulkhola 27

7483

12184

10731

46.72

Bara Jalia 13

9128

17230

16570

40.03

Memania 94

9272

11622

10870

33.60

Harinathpur 67

14831

13725

13280

44.14

Hizla Gaurabdi 81

29862

9072

7607

20.19
Source Bangladesh Population Census 2001, Bangladesh Bureau of Statistics.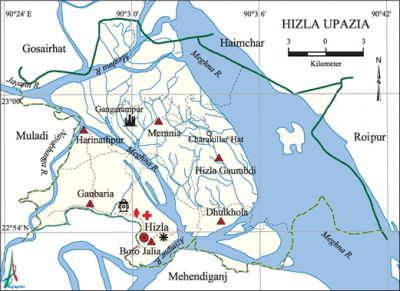 Archaeological heritage and relics Stone statue of Vasu Deva (Gobindapur).
History of the War of Liberation During the war of liberation in 1971 the local freedom fighters of the upazila under base commanders Kutub Uddin and Kazi Anwar (Bir Pratik) conducted a concerted operation against the Pak army in the Hizla-Muladi region. Most of the operations were led by Kutub Uddin and Abdus Kuddus Molla. During the War of Liberation, a number of freedom fighters including Havildar Shah Alam, Nayek Azizur Rahman, Havildar Nur Muhammad and Sepahi Abdul Wazed were killed in encounters with the Pak army. Besides, the Pak army killed eight persons including Hossain Ali (teacher) of Palpara and Sultan Jamadar of Dadpur.
Marks of the War of Liberation Memorial monument 1.
Religious institutions Mosque 326, temple 12. Noted religious institutions: Muslim Zamindar Bari Mosques at villages Sreeram Pur and Shahjahan Pur, Sultan Khan Mosque and dargah at village Gangapur.
Literacy rate and educational institutions Average literacy 38.2%; male 39.1%, female 37.4%. Educational institutions: college 1, secondary school 18, primary school 88, madrasa 41. Noted educational institutions: Hizla College, Kakuria Bandar Secondary School, Sanhati Pilot Secondary School, Mahishkhola Senior Madrasa.'
Newspapers and periodicals Hizla Upazila Barta.
Cultural organisations Cub 3, library 14, woman organisation 2, cinema hall 1, playground 10.
Main sources of income Agriculture 73.43%, non-agricultural labourer 2.61%, industry 0.56%, commerce 10.7%, transport and communication 1.02%, service 5.72%, construction 1.20%, religious service 0.31%,, rent and remittance 0.80% and others 3.65%.
Ownership of agricultural land Landowner 66.05%, landless 33.95%; agricultural landowner: urban 66.06% and rural 66.05%.
Main crops Paddy, jute, sugarcane, turmeric, potato, vegetables.
Extinct or nearly extinct crops Suryamukhi, mug, kaun, china, hogla leaf.
Main fruits Mango, jackfruit, banana, plum, litchi, black berry, palm, date, coconut, papaya, betel nut, hog plum.
Fisheries, dairies and poultries Fishery 4, Dairy 20, poultry 40.
Communication facilities Pucca road 2 km, semi-pucca road 30 km, mud road 120 km; waterways 108 nautical miles.
Extinct or nearly extinct traditional transport Palanquin, bullock cart.
Noted manufactories Rice mill, bidi factory, welding factory.
Cottage industries blacksmith, potteries, fishing-net factory, nakshi kantha, bamboo and carne work, handicrafts of jute, pati and madur industries, sugarcane molasses processing factory, shital pati.
Hats, bazars and fairs Hats and bazars are 35, most noted of which are Dhanushikder Hat, Puran Hizla Hat, Charkillar Hat, Mollar Bazar, Ekota Bazar, Kaisma Bazar.
Main exports Milk products, hog plum, shital pati, shrimp, betel nut,' rice.
Access to electricity All the unions of the upazila are under rural electrification net-work. However 17.23% (rural 14.90% and urban 45.69%) of the dwellings have access to electricity.'
Sources of drinking water Tube-well 83.22%, tap 0.43%, pond 5.50% and others 10.85%.
Sanitation 41.34% (rural 38.82% and urban 72.12%) of dwelling households of the upazila use sanitary latrines and 51.51% of dwelling households use non-sanitary latrines; 7.15% of households do not have latrine facilities.
Health centres Upazila health complex 1, family planning centre 5, satellite clinic 1.
Natural disaster The cyclone of 1960 and the tidal bore of 1971 caused heavy damages to settlements, livestock and properties of the upazila. Besides, many people died of starvation during the famine of 1962.
NGO activities Disha, Alor Disha. [KM Saiful Islam]
References Bangladesh Population Census 2001, Bangladesh Bureau of Statistics; Cultural Survey report of Hizla Upazila 2007.