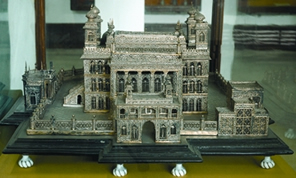 Husaini Dalan a Shiite shrine in the old part of the city of dhaka, attributed to the Mughal Period. It is a common practice among the Shia community to build edifices to commemorate the martyrdom of al-Husain, at the battle of Karbala in Iraq on the tenth day of Muharram 61 AH (10 October 680 AD). The building seems to have been originally erected by one Sayyid Murad during the governorship of shah shuja, who, although himself a Sunni, was eager to preserve and patronise Shiite institutions. Traditions relate that Sayyid Murad, having seen al-Husain in a vision erecting a tazia khana (house of mourning), was inspired to raise the building, which he named Husaini Dalan. The original building may have been a small structure, expanded to its present form in later times. The east india company repaired it in 1807 and 1810, and a portion of the building was reconstructed after the earthquake of 1897.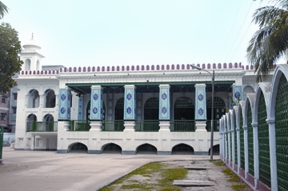 The building stands on a high platform ascended by a flight of steps on the east and consists of two main halls placed back to back. The shirni hall, facing south, is coloured black to indicate sorrow and mourning for the death of al-Husain, and the khutba hall, facing north, has a mimbar with seven wooden steps. In the latter hall are hung several religious symbols. To these halls have been added subsidiary halls in two storeys on the right and left, probably meant for women. The southern facade of the building is flanked by two three-storey polygonal hollow towers, crowned by domes.
The parapet of the building consists of coloured merlons, and over its four corners are four kiosks. The building as a whole gives a modern appearance with remnants of older architecture here and there.
From the first to the tenth day of Muharram, the Husaini Dalan becomes the chief attraction of the city. Mourners, including Sunni Muslims, assemble there, listen to sermons and join in passion plays crying 'Ya Husain, Ya Husain'. On the ashura (tenth day), a great procession parades through the main streets of the city to a place in the western part of the city symbolically called Karbala. [ABM Husain]