Idrakpur Fort situated at Munshiganj proper, now on the west bank of the canal running through the town, and on the eastern vicinity of Deobhog village. This water fort was originally built at a strategic point on the junction of the river Ichhamati (now dried up) and the Meghna. The location of the fort had earlier been named as Idrakpur. The development of the township in the locality with the name Munshiganj is a later innovation. Still there is a village named Idrakpur in the suburb of the town. The surroundings of the fort are now filled with earth, and in some places the silt has risen up to the level of the parapet.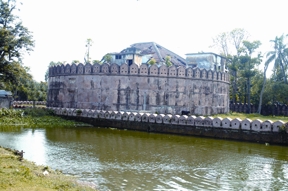 The erection of the fort was intended to check the advance of the Magh and Portuguese pirates proceeding towards the Mughal capital city of Dhaka. It was probably built by the Mughal subadar Mir Jumla in about 1660 A.D.
This brick built fort, quadrangular in size, runs from north to south measuring 86.87 meter in length and 59.60 meter in breadth. It consists of two main parts: i) the wider open area surrounded by curtain walls crowned by machicolated merlons, with engaged rounded corner bastions also crowned by merlons and pierced by musketry, and ii) the smaller area containing a round drum of huge dimension surrounded by another series of similar curtain walls. An approach to the drum is provided from the bigger court.
The most striking feature of the fort is the existence of an elevated rounded platform of 32.5 diameter and 9.14 meter high on the eastern part of the fort, which can be reached by a staircase. Another striking feature of the fort is the existence of a staircase leading to an underground room at the foot of the drum. Tradition goes that the staircase is a part of the provision for an underground tunnel meant for emergency exit of its occupants to some safe destination. But virtually the staircase simply leads to a secret underground chamber which was the magazine or storehouse for arms and explosives.
The main entrance gate of the fort is on the north with a high rectangular bastion crowned by machicolated merlons which served as a guard room.
On the top of the drum of the fort is the residential quarters of the Deputy Commissioner, and the fort itself now serves as the jail. [Muazzam Hussain Khan]